We're following all official guidelines to keep ourselves healthy on the job, and as a result, shipping may be delayed.
You will receive an email from our web orders team confirming that your order has been processed.
We thank you for your support and your patience at this challenging time.
This Boy (Hardcover)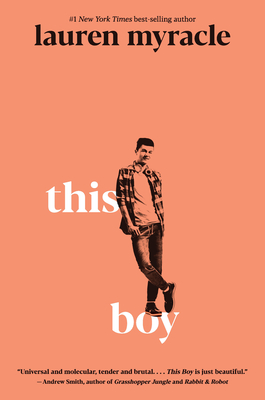 Description
---
Lauren Myracle brings her signature frank, funny, and insightful writing to this novel of a teenage boy's coming-of-age.

Paul Walden is not an alpha lobster, the hypermasculine crustacean king who intimidates the other male lobsters, beds all the lady lobsters, and "wins" at life. At least not according to the ego-bursting feedback he's given in his freshman seminar. But Paul finds a funny, faithful friend in Roby Smalls, and maybe — oh god, please — he's beginning to catch the interest of smart, beautiful Natalia Gutierrez. Cruising through high school as a sauced-out, rap-loving beta lobster suits Paul fine, and if life ever gets him down? Smoke a little weed, crunch a few pills . . . it's all good.

But in the treacherous currents of teenage culture, it's easy to get pulled under. With perfect frankness, Lauren Myracle lays bare the life of one boy as he navigates friendship, love, loss, and addiction. It's life at its most ordinary and most unforgettable.
About the Author
---
Lauren Myracle is the author of numerous novels for middle-grade and young adult readers, including the Internet Girls series (ttyl; ttfn; l8r, g8r; and yolo), the Winnie Years series, the Wishing Day trilogy, and others. She lives with her family in Fort Collins, Colorado.
Praise For…
---
Myracle's depiction of Paul, his deep friendship with Roby, his relationship with his mom, and his first love with Natalia (a strong and multidimensional young woman) will snag readers, both reluctant and voracious, as they root for each of them to make it through the difficult realities of life, high school, and love.
—School Library Journal

Through well-crafted dialogue and prose, the narrative highlights the ordinary, everyday moments and conversations that take up Paul's life. Paul's intimate first-person narration holds nothing back...A gritty and powerful story.
—Kirkus Reviews

Myracle does a superbly vivid job of handling Paul's friendship with Roby, his love for Natalia, and his later addiction. More than a simple cautionary story, this is a deeply felt, highly empathetic exercise in survival and a celebration of friendship.
—Booklist

This Boy is at once universal and molecular, tender and brutal; a graceful, engaging four-year journey through friendship, love, and life that will rough you up with honesty while quietly etching its characters deeper and deeper into your heart. Lauren Myracle has done it again.
—Andrew Smith, author of Grasshopper Jungle and Rabbit & Robot

This is Lauren Myracle at her best! No punches pulled. A funny, true, rugged story about love and family and jealousy and chance: the chaotic mess that is teenage life. Paul, Roby, and Natalia could be — would be — your friends, and just like your friends, they soar with you and they break your heart.
—Chris Crutcher, author of Staying Fat for Sarah Byrnes and Losers Bracket