We're following all official guidelines to keep ourselves healthy on the job, and as a result, shipping may be delayed.
You will receive an email from our web orders team confirming that your order has been processed.
We thank you for your support and your patience at this challenging time.
The Mystery of the Exploding Teeth: And Other Curiosities from the History of Medicine (Hardcover)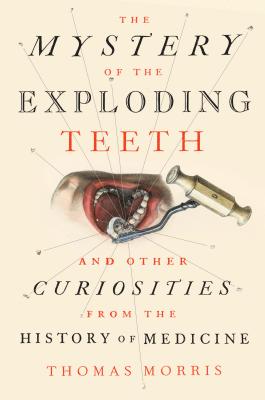 $26.00
Not On Our Shelves—Ships in 1-5 Days
Description
---
"Delightfully horrifying."--Popular Science
One of Mental Floss's Best Books of 2018
One of Science Friday's Best Science Books of 2018

This wryly humorous collection of stories about bizarre medical treatments and cases offers a unique portrait of a bygone era in all its jaw-dropping weirdness.

A puzzling series of dental explosions beginning in the nineteenth century is just one of many strange tales that have long lain undiscovered in the pages of old medical journals. Award-winning medical historian Thomas Morris delivers one of the most remarkable, cringe-inducing collections of stories ever assembled. Witness Mysterious Illnesses (such as the Rhode Island woman who peed through her nose), Horrifying Operations (1781: A French soldier in India operates on his own bladder stone), Tall Tales (like the "amphibious infant" of Chicago, a baby that could apparently swim underwater for half an hour), Unfortunate Predicaments (such as that of the boy who honked like a goose after inhaling a bird's larynx), and a plethora of other marvels.

Beyond a series of anecdotes, these painfully amusing stories reveal a great deal about the evolution of modern medicine. Some show the medical profession hopeless in the face of ailments that today would be quickly banished by modern drugs; but others are heartening tales of recovery against the odds, patients saved from death by the devotion or ingenuity of a conscientious doctor.

However embarrassing the ailment or ludicrous the treatment, every case in The Mystery of the Exploding Teeth tells us something about the knowledge (and ignorance) of an earlier age, along with the sheer resilience of human life.
About the Author
---
Thomas Morris is a writer and medical historian. His first book, The Matter of the Heart, a history of heart surgery, was a winner of a Royal Society of Literature Jerwood Award. He lives in London.
Praise For…
---
Praise for The Mystery of the Exploding Teeth

"A Ripley-esque collection of 'compellingly disgusting, hilarious, or downright bizarre' medical oddities... accompanied by the author's witty and often humorous, colloquial commentary." 
-–Kirkus Reviews

"In The Mystery of the Exploding Teeth and Other Curiosities From the History of Medicine, Thomas Morris takes a delightful romp through a myriad of entertaining, arcane and obscure medical anecdotes plucked from 18th- and 19th-century newspapers, journals and textbooks... Using a panoply of colorful examples, the author artfully illustrates the frustrations, uncertainty, poorly founded confidence and frequent futility of medical practice in the prescientific age."
--Wall Street Journal

"The vast amount of material from diverse sources will amuse readers and leave them shaking their heads… [an] informative, fascinating look at the history of medicine." 
--Library Journal

"A wonderfully gruesome tour of inexplicable illnesses, questionable remedies, jaw-dropping operations and recoveries that defy logic... a fascinating window into the world of medical oddities... This tour of strange and unbelievable medical cases from history is funny and terrifying in equal measure." 
--Shelf Awareness

"Delightfully horrifying...Do yourself a favor and preorder it so that you can gross everyone out at Thanksgiving."
--Popular Science

"A particularly fascinating reminder of medical advancement… Morris has combed through old medical journals and compiled a trove of the most bizarre, disgusting — and compelling — cases from the early 17th to the turn of the 20th century. It's like medical rubbernecking." 
--New York Post

"The clinical cases Morris has collected, creating what amounts to a medical version of Ripley's Believe It or Not!, are often intriguing, occasionally disgusting, sometimes tragic, but always weird… Morris offers a most peculiar jaunt through medical history." 
--Booklist

"A gruesome but weirdly compelling trip through several centuries of quack cures, horrific operations, and bizarre accidents." 
--New York Daily News

"Morris pokes fun in a respectful manner that isn't mean-spirited… Even better, these accounts go beyond the usual leeches-and-mercury tales; instead, most of what Morris presents hasn't had a good exam in decades. Despite their age – and many are 200-plus years old – these articles seem fresh… if boredom is what ails you, The Mystery of the Exploding Teeth is an excellent remedy."
--Terri Schlichenmeyer, The Bookworm Sez

"[A] series of case studies from our research past that will remind you that we are never as smart as we think. Morris uses images of old documents, and citations from physicians of the past, in way that makes the book both real, grounded—and a lot of fun."
--Science Friday, Best Science Books of 2018

"Replete with tales such as "the human pincushion" and  "suffocated by a fish," The Mystery of the Exploding Teeth is a bewildering walk through medical history that will astonish readers. This book proves that truth is indeed stranger—and more stomach-churning—than fiction. Between the toasting forks projectiles and deadly dentures, there are lessons a-plenty on how not to die."
--Lydia Kang, MD, author of Quackery

"This delightfully bizarre compendium of medical mishaps will certainly tickle you—what's not to love about exploding teeth?—but something deeper is at work. Morris offers a wryly generous view of the fallibilities of the body and psyche (read: the sailor who wouldn't stop swallowing knives) and doctors' inventive, often heroic attempts to remedy same, as medical science developed. At heart, this is an exploration of our humanity, in all its absurdity and valor."
-–Dawn Raffel, author of The Strange Case of Dr. Couney

"The Mystery of the Exploding Teeth is such a weirdly wonderful tour through the history of medicine - from wandering bullets to apparently evil cucumbers - that on one level it's just pure fun to read. But Thomas Morris' intelligent story telling also makes it a fascinating look at medical history with all its mistakes, superstitions, and eventual understanding of the ever mysterious human body."
--Deborah Blum, author of The Poison Squad