We're following all official guidelines to keep ourselves healthy on the job, and as a result, shipping may be delayed.
You will receive an email from our web orders team confirming that your order has been processed.
We thank you for your support and your patience at this challenging time.
Dinner in Camelot: The Night America's Greatest Scientists, Writers, and Scholars Partied at the Kennedy White House (Hardcover)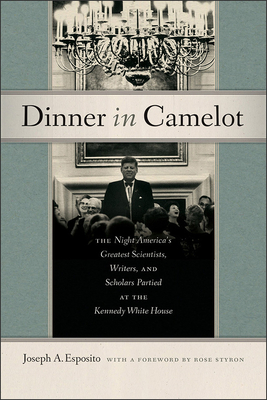 $29.95
Not On Our Shelves—Ships in 1-5 Days
Description
---
In April 1962, President and Mrs. John F. Kennedy hosted forty-nine Nobel Prize winners—along with many other prominent scientists, artists, and writers—at a famed White House dinner. Among the guests were J. Robert Oppenheimer, who was officially welcomed back to Washington after a stint in the political wilderness; Linus Pauling, who had picketed the White House that very afternoon; William and Rose Styron, who began a fifty-year friendship with the Kennedy family that night; James Baldwin, who would later discuss civil rights with Attorney General Robert Kennedy; Mary Welsh Hemingway, Ernest Hemingway's widow, who sat next to the president and grilled him on Cuba policy; John Glenn, who had recently orbited the earth aboard Friendship 7; historian Arthur M. Schlesinger, Jr., who argued with Ava Pauling at dinner; and many others. Actor Frederic March gave a public recitation after the meal, including some unpublished work of Hemingway's that later became part of Islands in the Stream. Held at the height of the Cold War, the dinner symbolizes a time when intellectuals were esteemed, divergent viewpoints could be respectfully discussed at the highest level, and the great minds of an age might all dine together in the rarefied glamour of "the people's house."
About the Author
---
JOSEPH A. ESPOSITO has had a long career in the fields of public service, education, communications, and nonprofit work. He served in three presidential administrations, most recently as deputy undersecretary for international affairs at the U.S. Department of Education. He is currently an adjunct professor at Northern Virginia Community College. He blogs about history at www.josephaesposito.com.
Praise For…
---
"A fascinating entry point to the cultural and academic environments of the 1960s. . . . Esposito presents a book that makes us wonder what the world could have been and that allows us to dream, at least for 200 pages."
— Kirkus Reviews
"Esposito's approach captures all of that remarkable evening's many dimensions, reading like a melding of American Heritage, Architectural Digest, and Gourmet, along with a national newspaper's page 1 above the fold and society pages."
— National Book Review
"A fascinating look back at a time when intellect and culture were respected in the inner sancta of American power."
— Publishers Weekly
"A delightful, detailed account of the dinner, its background, its repercussions and its lasting meaning. . . . Esposito brings a solid blend of intellectual and writing background to his task. He has taught history, written it and lived it in three administrations. The book is a largely skillful mix of diligently researched detail and chatty anecdotes, all woven together without excessively florid Camelot rhetoric."
— The Washington Post
"A book that lovingly evokes the New Frontier, its promise and elegance."
— The Beacon