We're following all official guidelines to keep ourselves healthy on the job, and as a result, shipping may be delayed.
You will receive an email from our web orders team confirming that your order has been processed.
We thank you for your support and your patience at this challenging time.
Infinite Hope: A Black Artist's Journey from World War II to Peace (Compact Disc)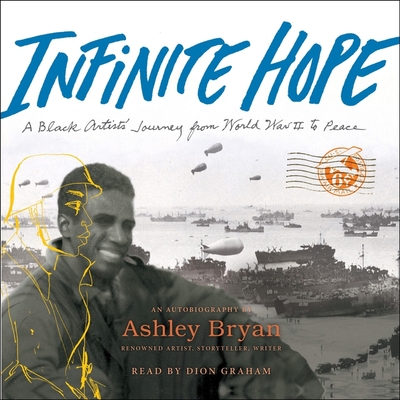 $21.99
Not On Our Shelves—Ships in 1-5 Days
Description
---
From celebrated author and illustrator Ashley Bryan comes a deeply moving picture book memoir about serving in the segregated army during World War II, and how love and the pursuit of art sustained him.In May of 1942, at the age of eighteen, Ashley Bryan was drafted to fight in World War II. For the next three years, he would face the horrors of war as a black soldier in a segregated army. He endured the terrible lies white officers told about the black soldiers to isolate them from anyone who showed kindness--including each other. He received worse treatment than even Nazi POWs. He was assigned the grimmest, most horrific tasks, like burying fallen soldiers...but was told to remove the black soldiers first because the media didn't want them in their newsreels. And he waited and wanted so desperately to go home, watching every white soldier get safe passage back to the United States before black soldiers were even a thought. For the next forty years, Ashley would keep his time in the war a secret. But now, he tells his story. The story of the kind people who supported him. The story of the bright moments that guided him through the dark. And the story of his passion for art that would save him time and time again. Filled with never-before-seen artwork and handwritten letters and diary entries, this illuminating and moving memoir by Newbery Honor-winning illustrator Ashley Bryan is both a lesson in history and a testament to hope.