AP Physics 2: With 4 Practice Tests (Paperback)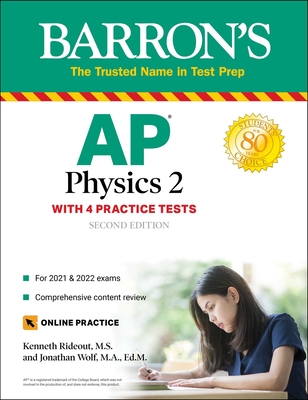 $22.99
In Stock—Click for Locations
Description
---
Be prepared for exam day with Barron's. Trusted content from AP experts!

Barron's AP Physics 2: 2021-2022 includes in-depth content review and online practice. It's the only book you'll need to be prepared for exam day.
Written by Experienced Educators
Learn from Barron's--all content is written and reviewed by AP experts
Build your understanding with comprehensive review tailored to the most recent exam
Get a leg up with tips, strategies, and study advice for exam day--it's like having a trusted tutor by your side
Be Confident on Exam Day
Sharpen your test-taking skills with 4 full-length practice tests--2 in the book and 2 more online
Strengthen your knowledge with in-depth review covering all Units on the AP Physics 2 Exam
Reinforce your learning with practice questions at the end of each chapter
Interactive Online Practice
Continue your practice with 2 full-length practice tests on Barron's Online Learning Hub
Simulate the exam experience with a timed test option
Deepen your understanding with detailed answer explanations and expert advice
Gain confidence with automated scoring to check your learning progress
About the Author
---
Ken Rideout has a B.S. in Honors Physics from Purdue University and an M.S. in Physics from Carnegie Mellon University. He has been teaching high school physics for more than fifteen years in the Boston area and is currently the science department head at Wayland High School in Wayland, MA.

Jonathan Wolf, M.A., Ed.M., has taught all levels of physics at both the secondary school and college level for over 36 years. He spent 25 of those years teaching physics at Scarsdale High School in Scarsdale, New York and retired from there in 2014. He has taught introductory college physics lectures and introductory college physics labs as a member of the adjunct faculty at Hofstra University, Seton Hall University, and most recently at Fairleigh Dickinson University in Madison, New Jersey. 

About the Publisher
In the 1930s, Manuel H. Barron opened a bookstore in Brooklyn, New York. 

People from the community asked Mr. Barron about books that might be available to help their children study for the New York State Regents exams. After realizing there wasn't anything available, Mr. Barron created his own study guides.

80 years later, Barron's has helped millions of people prepare for their next step.