We're following all official guidelines to keep ourselves healthy on the job, and as a result, shipping may be delayed.
You will receive an email from our web orders team confirming that your order has been processed.
We thank you for your support and your patience at this challenging time.
The Reason I Jump: The Inner Voice of a Thirteen-Year-Old Boy with Autism (MP3 CD)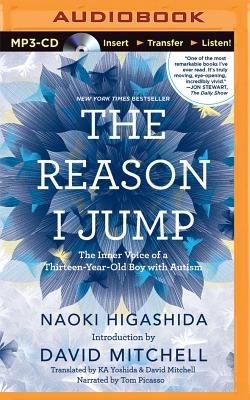 $19.99
Special Order—Subject to Availability
Description
---
You've never listened to a book like The Reason I Jump. Written by Naoki Higashida, a very smart, very self-aware, and very charming thirteen-year-old boy with autism, it is a one-of-a-kind memoir that demonstrates how an autistic mind thinks, feels, perceives, and responds in ways few of us can imagine. Parents and family members who never thought they could get inside the head of their autistic loved one at last have a way to break through to the curious, subtle, and complex life within. Using an alphabet grid to painstakingly construct words, sentences, and thoughts that he is unable to speak out loud, Naoki answers even the most delicate questions that people want to know. Questions such as: "Why do people with autism talk so loudly and weirdly?" "Why do you line up your toy cars and blocks?" "Why don't you make eye contact when you're talking?" and "What's the reason you jump?" (Naoki's answer: "When I'm jumping, it's as if my feelings are going upward to the sky.") With disarming honesty and a generous heart, Naoki shares his unique point of view on not only autism but life itself. His insights--into the mystery of words, the wonders of laughter, and the elusiveness of memory--are so startling, so strange, and so powerful that you will never look at the world the same way again.