We're following all official guidelines to keep ourselves healthy on the job, and as a result, shipping may be delayed.
You will receive an email from our web orders team confirming that your order has been processed.
We thank you for your support and your patience at this challenging time.
A Good American Family: The Red Scare and My Father (Hardcover)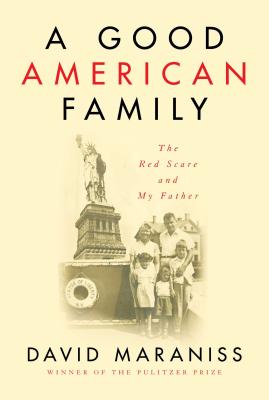 Description
---
Named a Best Book of 2019 by NPR and The Washington Post.

In a riveting book with powerful resonance today, Pulitzer Prize–winning author David Maraniss captures the pervasive fear and paranoia that gripped America during the Red Scare of the 1950s through the chilling yet affirming story of his family's ordeal, from blacklisting to vindication.

Elliott Maraniss, David's father, a WWII veteran who had commanded an all-black company in the Pacific, was spied on by the FBI, named as a communist by an informant, called before the House Un-American Activities Committee in 1952, fired from his newspaper job, and blacklisted for five years. Yet he never lost faith in America and emerged on the other side with his family and optimism intact.

In a sweeping drama that moves from the Depression and Spanish Civil War to the HUAC hearings and end of the McCarthy era, Maraniss weaves his father's story through the lives of his inquisitors and defenders as they struggle with the vital twentieth-century issues of race, fascism, communism, and first amendment freedoms. A Good American Family powerfully evokes the political dysfunctions of the 1950s while underscoring what it really means to be an American. It is an unsparing yet moving tribute from a brilliant writer to his father and the family he protected in dangerous times.
About the Author
---
David Maraniss is an associate editor at The Washington Post and a distinguished visiting professor at Vanderbilt University. He has won two Pulitzer Prizes for journalism and was a finalist three other times. Among his bestselling books are biographies of Bill Clinton, Barack Obama, Roberto Clemente, and Vince Lombardi, and a trilogy about the 1960s—Rome 1960; Once in a Great City (winner of the RFK Book Prize); and They Marched into Sunlight (winner of the J. Anthony Lucas Prize and Pulitzer Finalist in History). A Good American Family is his twelfth book.
Praise For…
---
"A winner of two Pulitzer Prizes in journalism and one of our most talented biographers and historians, Maraniss has used his prodigious research skills to produce a story that leaves one aching with its poignancy, its finely wrought sense of what was lost, both in his home and in our nation. It is at the same time a book that, like his family, never gives in to self-pity but remains remarkably balanced, forthright and unwavering in its search for the truth."—The New York Times

"Clear-eyed and empathetic, Maraniss's engrossing portrait of a patriotic, baseball-loving red reveals the complex human motivations underneath the era's clashing dogmas."—Publishers Weekly, Starred Review

"An absorbing history of American political and cultural life in the 1940s and '50s... A clear-eyed, highly personal view of a dark chapter in American history."—Kirkus

"[A] beautifully realized account of an ordinary family in extraordinary circumstances and of how easily 'normal' life can be disrupted by a powerful megalomaniac with a dangerous political agenda."—Booklist

"Audiences interested in the domestic implications of the Cold War will be captivated by this journalist whose patriotism was measured by actions and not exaggerated by words…[an] absorbing account of Elliot's life and the lives of his family. Readers will be fascinated by their successes, failures, and tragedies."—Library Journal, starred review

"Fascinating…engrossing…absorbing."—Minneapolis Star Tribune

"A Good American Family enriches our understanding of the era through vivid, humanizing portraits of individuals on both sides of the ideological divide... a tale of resilience and redemption...[an] elegant, emotional, and empathetic narrative."—Psychology Today

"A thoughtful, poignant and historically valuable story of the Red Scare of the 1950s."—The Wall Street Journal

"In this moment of dueling political hysterias ('The fascists are at the gates!' 'The socialists are within the gates!'), it is reassuring to remember that America has quickly recovered from some previous plunges into overheated anxiety. David Maraniss understands this….His readers will admire his emotional equilibrium, and can take comfort from this story of national equilibrium lost and restored."—George Will