Wrestling With His Angel: The Political Life of Abraham Lincoln Vol. II, 1849-1856 (Hardcover)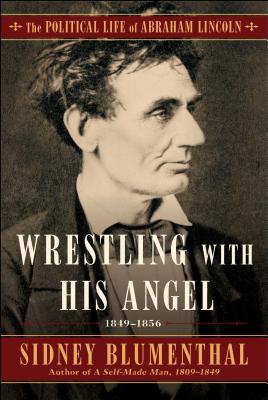 $35.00
Not On Our Shelves—Ships in 1-5 Days
Description
---
"Magisterial...A vividly written, wide-ranging and often surprising account of the president-to-be." —The New York Times Book Review

"Masterful." —Los Angeles Times

Volume II of Sidney Blumenthal's acclaimed, landmark biography, The Political Life of Abraham Lincoln, reveals the future president's genius during the most decisive period of his political life when he seizes the moment, finds his voice, and helps create a new political party.

In 1849, Abraham Lincoln seems condemned to political isolation and defeat. His Whig Party is broken in the 1852 election, and disintegrates. His perennial rival, Stephen Douglas, forges an alliance with the Southern senators and Secretary of War Jefferson Davis. Violent struggle breaks out on the plains of Kansas, a prelude to the Civil War.

Lincoln rises to the occasion. Only he can take on Douglas in Illinois, and he finally delivers the dramatic speech that leaves observers stunned. In 1855, he makes a race for the Senate, which he loses when he throws his support to a rival to prevent the election of a proslavery candidate. Now, in Wrestling With His Angel, Sidney Blumenthal explains how Lincoln and his friends operate behind the scenes to destroy the anti-immigrant party in Illinois to clear the way for a new Republican Party. Lincoln takes command and writes its first platform and vaults onto the national stage as the leader of a party that will launch him to the presidency.

The Washington Monthly hailed Blumenthal's Volume I as, "splendid…no one can come away from reading A Self-Made Man without eagerly anticipating the ensuing volumes." Now, in one of the greatest American success stories, Wrestling With His Angel brings Lincoln from the wilderness to the peak of his career as he takes control of the nation's most profound spiritual crisis—slavery—and enters the battle for the nation's soul.
About the Author
---
Sidney Blumenthal is the former assistant and senior adviser to President Bill Clinton, and senior adviser to Hillary Clinton. He has been a national staff reporter for The Washington Post, Washington editor and staff writer for The New Yorker, senior writer for The New Republic, and contributed to numerous additional publications. His books include the bestselling The Clinton Wars, The Rise of the Counter-Establishment, and The Permanent Campaign. Among his films, he was the executive producer of the Academy and Emmy Award–winning Taxi to the Dark Side.
Praise For…
---
"Sidney Blumenthal's first volume, A Self-Made Man, wove a broad and intricate counterpoint between the young life of Abraham Lincoln and the politics of Jacksonian America. Blumenthal extends that superb counterpoint in Wrestling With His Angel, giving us the best account we have of the big-screen context of Lincoln and the explosive political events during the decade he strode to the front of the American stage. Blumenthal illuminates the path Lincoln hewed to greatness. This is the best political history we have had of Abraham Lincoln since James G. Randall and Allan Nevins."
— Allen Guelzo, author of Gettysburg, winner of the Lincoln Prize

"Sidney Blumenthal has achieved something quite unexpected: he has rescued the Lincoln most Americans know only as an icon, and turned him back into a real human being, revealing a clever and adroit politician, a fixer of conventions, and a political operator whose ambitions are surpassed only by his searing moral vision."
— Kai Bird, Pulitzer Prize-winning author of American Prometheus: The Triumph and Tragedy of J. Robert Oppenheimer

"A timely and important book. Rather than diminishing his sympathy for the 16th President's inner turmoil, Blumenthal's 'long historical view' has yielded an exceptionally nuanced and compassionate portrait of Lincoln and the circumstances that shaped his career."
— Amanda Foreman, author of A World on Fire: Britain's Crucial Role in the American Civil War

"Wrestling With His Angel is a raucous and epic voyage through the turbulent political waters of the age that made Abraham Lincoln. Blumenthal has crafted a Melvillian narrative of the era of secession and the men who navigated it. Completely mesmerizing, a deeply serious meditation with the keen sense of humor that Lincoln so famously had."
— John Witt, author of the Lincoln's Code, winner of the Bancroft Prize

"Wrestling With His Angel is dramatic narrative history, prophetic and intimate—painfully at times. Blumenthal makes our nation's moral cleavage appear tragically ordained, perhaps insurmountable, which renders his luminous portrait of Lincoln all the more revelatory."
— Diane McWhorter, Pulitzer Prize-winning author of Carry Me Home

"In the second volume of his masterful biography, Sidney Blumenthal tells the story of Lincoln's political self-fashioning in the 1850s, and his entrance onto the stage of history. With vigorous prose, deep knowledge, and energetic narrative momentum, Blumenthal shows how Lincoln defined himself against his rival Stephen Douglas, learned how to become a persuasive orator, fortified his intellectual opposition to slavery, and fought the anti-immigrant "Know-Nothing" party that was dominating American politics. Read it for a total immersion in pre-Civil War politics that has startling relevance to our own era."
— Elaine Showalter, author of The Civil Wars of Julia Ward Howe

"Blumenthal immerses the reader in American politics in the years between Lincoln's return to Springfield, after completing his term in the House of Representatives, and his contribute to founding the Illinois Republican Party."

"An ambitious old-fashioned ensemble piece, history as theater, which sets the stage for the Civil War. . . . we have two more volumes to anticipate from Blumenthal's finely etched drama of history, illuminating Lincoln's craggy character in a fuller, clearer light."

"Masterful"

"Magnificent . . . Blumenthal explores in superbly researched and beautifully written detail the crucial period when "Lincoln's public and private statements" began to reflect "a moderate politician with radical thoughts." . . . extremely well done, and anyone interested in Lincoln's political career will want to read it."

"[Blumenthal] provides the deep and often lurid background of the age in which Lincoln lived, operated, practiced law, raised a family, and became a political genius. . . . This soon to be four-volume biography of Lincoln is the most readable to date and promises to be a modern classic in understanding Lincoln's life."

"Everything and everyone in Blumenthal's rich study of 19th-century political life acts upon the man who became the 16th president in 1861. . . . Wrestling With His Angel contains fascinating portraits of other historical figures. . . . monumental."

"Blumenthal brings a sharp, battle-honed political mind to the task of re-telling this seemingly familiar story. . . . His feel for the heat of partisan combat gives his book a sense of immediacy and excitement. More than that, he draws insightful parallels between the bitter political fights of the 19th and 21st centuries, suggesting that the great moral divides of the past are still with us today. . . . Wrestling With His Angel manages to put flesh on the dry bones of forgotten political characters. . . . Wrestling With His Angel retells this crucial chapter in Lincoln's story with fresh eyes, ones that don't miss its relevance to today."

"A deeply fascinating story in an often overlooked period of Lincoln's life. . . . Blumenthal draws one vivid picture after another of these least-known years of Lincoln's life . . . intelligent and rigorous."

"Blumenthal is urgent, unflagging, so full of a sense of an impending doom for the republic that, by the end of the book, it almost seems beyond belief that any one person could rise equal to the task of saving it."
— Allen Guelzo

"Blumenthal has spent his life in the interconnected worlds of politics and journalism, and it shows: He grasps that political genius in ways others could not, making Lincoln more politically plausible."

"A sprawling account of the larger political history of the United States"

"Grippingly and gracefully written."

"Magisterial . . . A vividly written, wide-ranging and often surprising account of the president-to-be."

"Another must-read book in Blumenthal's four-part series on the political life of Abraham Lincoln."

"Captivating . . . compelling."

"A sweeping narrative of antebellum American politics."

"With extraordinary research and deft prose, Blumenthal provides a full and convincing portrait of Lincoln during his years of supposed retreat from politics."