Zombies (Behind the Legend) (Hardcover)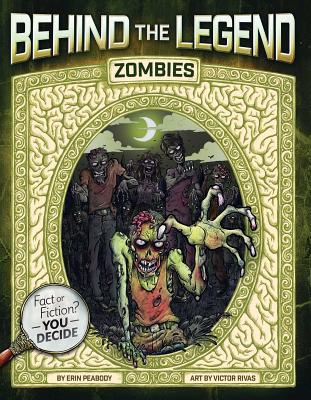 Description
---
Are undead, brain-hungry zombies real, or just a myth? You decide with this new book in the nonfiction series, Behind the Legend!

Behind the Legend looks at creatures and monsters throughout history and analyzes them through a scientific, myth-busting lens, debating whether or not the sightings and evidence provided are adequate proof of their existence. In Zombies, readers learn about all the stories and "proof" of them, from accounts in history and literature of people being made into zombies, including from reports Mesopotamia, Haiti, and America, as well as our own modern understanding of zombies' qualities. It also discusses additional history about the monsters, such as how zombies became major figures in popular culture, more recent understandings, and theories on how people turn into zombies. Complete with engaging anecdotes, interesting sidebars, and fantastic illustrations, kids won't want to put this book down!
About the Author
---
Erin Peabody loves getting young people excited about the fascinating and quirky workings of our natural world. She's worked as a park ranger at the National Mall in Washington, D.C., the Dry Tortugas in the Gulf of Mexico, and Yellowstone, before becoming an author. Among her favorite topics are grizzly bears, sea turtles, carnivorous crickets, and geysers that spout once a century. Erin lives with her husband, daughter, and yellow lab, Luna, in the leafy hills of Cincinnati, Ohio.

Jomike Tejido is an architect and award-winning illustrator and author who has made over 50 children's books. Jomike enjoys art inspired by nature and is reflective in his other venture as a painter on hand-woven mats. Apart from art, Jomike enjoys playing soccer, eating seafood, cooking, and traveling to new places. Jomike lives in Manila, Philippines, with his wife and his baby daughter, Sophia.