The Wilson Deception (A Fraser and Cook Mystery #2) (Paperback)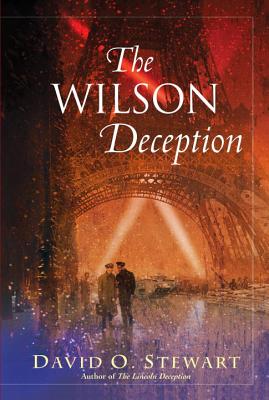 Other Books in Series
This is book number 2 in the A Fraser and Cook Mystery series.
Description
---
Against the backdrop of the Paris Peace Conference that would remake Europe in the wake of World War I, David O. Stewart reunites Dr. Jamie Fraser and Speed Cook, protagonists of the acclaimed The Lincoln Deception, in an intriguing presidential mystery . . .

The Great War has ended, and President Woodrow Wilson's arrival in Paris unites the city in ecstatic celebration. Major Jamie Fraser, an army physician who has spent ten months tending American soldiers, is among the crowd. As an expert on the Spanish influenza, Fraser is also called in to advise the president's own doctor on how best to avoid the deadly disease. Despite his robust appearance, Wilson is more frail than the public realizes. And at this pivotal moment in history, the president's health could decide the fate of nations.

While Fraser investigates Wilson's maladies, he encounters a man he has not seen for twenty years. Speed Cook—ex-professional ball player and advocate for Negro rights—is desperate to save his son Joshua, an army sergeant wrongly accused of desertion. Pledging to help Cook, Fraser and his friend are soon embroiled in dramatic events unfolding throughout Paris. At stake is not only Joshua Cook's freedom, but the fragile treaty that may be the only way to stop Europe from plunging into another brutal war.

PRAISE FOR DAVID O. STEWART AND THE LINCOLN DECEPTION

"More than enough to satisfy any reader of historical whodunits."—The Washington Post

"Historian Stewart's debut novel is dense with detail and intrigue, making a hearty read for conspiracy addicts."—Library Journal

"A little-known aspect of Lincoln assassination lore makes a gripping thriller and historical inquiry."—The Roanoke Beacon
About the Author
---
David O. Stewart is the author of several works of history, most recently Madison's Gift: Five Partnerships That Built America, which have been awarded the Washington Writing Award and the Society of the Cincinnati History Prize. He lives in Maryland and his website is at www.davidostewart.com.