We're following all official guidelines to keep ourselves healthy on the job, and as a result, shipping may be delayed.
You will receive an email from our web orders team confirming that your order has been processed.
We thank you for your support and your patience at this challenging time.
Illegal (Paperback)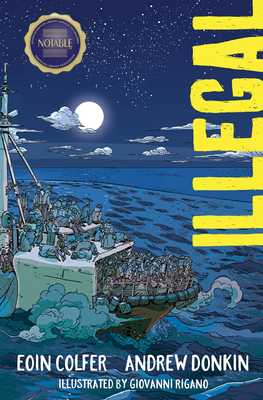 Description
---
A powerfully moving, award-winning graphic novel that explores the current plight of undocumented immigrants from New York Times bestselling author Eoin Colfer and the team behind the Artemis Fowl graphic novels. How can a human being be illegal for simply existing?
Ebo is alone. His brother, Kwame, has disappeared, and Ebo knows it can only be to attempt the hazardous journey to Europe, and a better life--the same journey their sister set out on months ago. But Ebo refuses to be left behind in Ghana. He sets out after Kwame and joins him on the quest to reach Europe. Ebo's epic journey takes him across the Sahara Desert to the dangerous streets of Tripoli, and finally out to the merciless sea. But with every step he holds on to his hope for a new life, and a reunion with his family.
An achingly poignant tale for learning about immigration and current global issues. This book is fiction, but it is based on a very real and terrible journey. There are young people who have lived this, and it is a story those young people want us to know about.
2019 Excellence in Graphic Literature Award Winner
A New York Public Library Best Book of 2018
A Chicago Public Library Best Book of 2018
An Amazon Best Book of 2018
A Kirkus Reviews Best Middle Grade Graphic Novel of 2018
An American Library Association Notable Book for 2019
2019 YALSA Top Ten Great Graphic Novels for Teens
2019 CBC Notable Social Studies Book
A Junior Library Guild Selection