Choose Your Own Disaster (Paperback)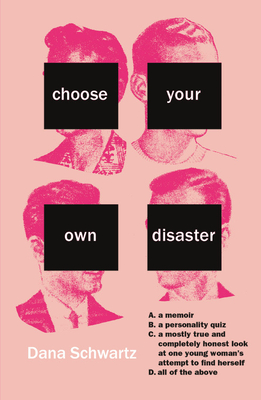 Description
---
A hilarious, quirky, and unflinchingly honest memoir about one young woman's terrible and life-changing decisions while hoping (and sometimes failing) to find herself, in the style of Never Have I Ever and Adulting.

Join Dana Schwartz on a journey revisiting all of the terrible decisions she made in her early twenties through the internet's favorite method of self-knowledge: the quiz. Part-memoir, part-VERY long personality test, CHOOSE YOUR OWN DISASTER is a manifesto about the millennial experience and modern feminism and how the easy advice of "you can be anything you want!" is actually pretty fucking difficult when there are so many possible versions of yourself it seems like you could be. Dana has no idea who she is, but at least she knows she's a Carrie, a Ravenclaw, a Raphael, a Belle, a former emo kid, a Twitter addict, and a millennial just trying her best.
About the Author
---
Dana Schwartz is an arts and culture writer based in Los Angeles with writing for The New Yorker, The Guardian, New York Observer, Marie Claire, Glamour, Mic, GQ, VICE, and more. She is currently a staff writer for Entertainment Weekly. She created a parody Twitter account called @GuyInYourMFA based on the people she's encountered in fiction workshops, and another one called @DystopianYA about the tropes in all of the young adult fiction books she's read. Her own (non-dystopian) YA book, And We're Off, was published May 2017 by Penguin/Razorbil.

Praise For…
---

A hilarious
and heartbreaking journey of how hard it is to figure out how to be the woman we all
think we should be. Schwartz's book is a witty and incisive guide for women navigating a
world that is violently shifting beneath our feet on a daily basis.


—
JO PIAZZA, bestselling author of The Knockoff and Fitness Junkie



CHOOSE YOUR OWN DISASTER
had me so hooked that more than once I looked up from reading it and realized I had no
idea how many subway stops had gone by. Dana's disasters will entertain you, but it's
her endearingly honest and unflinching perspective that will keep you turning the page.


—
ERIN CHACK, author of This Is Really Happening



"Reading CHOOSE
YOUR OWN DISASTER feels like a hilarious night out with your best friend. Your early
twenties are messy, dark, and exhilarating-Dana Schwartz captures all of that with
unflinching honesty and a spot-on sense of humor.


—
HANNAH ORENSTEIN, author of Playing with Matches


"Equal parts amusing and cringe-worthy, these stories will have millennial readers relating and older ones nodding, 'Yes. I've made similar mistakes."—
Library Journal
"This long-form personality quiz manages to combine humor with unflinching honesty as one young woman tries to find herself amid the many, many choices that your twenties have to offer."—
Bustle
"The snappy direct address gives the feel of a playful internet bit, is sure to please Schwartz's loyal fans."—
Booklist
"What do millennials love more than a quiz? NOTHING (except for killing off the diamond and napkin industries). That's part of what makes Dana Schwartz's unflinching, hilarious, and feminist memoir,
Choose Your Own Disaster
, such a fun ride."—
PopSugar
"
Choose Your Own Disaster
is a salted caramel of a memoir. Her travails as an early 20-something aspiring writer/rom-com character are the perfect mixture of salty and sweet."—
The Washington Post