I Don't Want to Eat That (Paperback)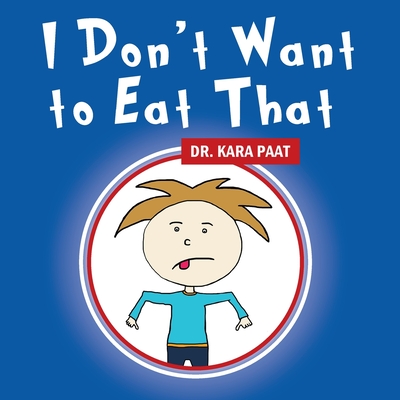 $17.95

Not On Our Shelves—Ships in 1-5 Days
(This book cannot be returned.)
Description
---
Throughout her twenty years of clinical practice, Dr. Kara Paat would often hear parents admit that they struggled to get their picky eaters to choose healthier foods. The dinner table discussion would turn into an argument full of anger and frustration, having two expected outcomes; tears from the children or parents throwing in the towel, saving the battle for another day.
This pervasive parental challenge inspired Dr. Paat to write this book-helping parents educate their children and understand the importance of healthy food choices. This book illustrates that food choices have an immense impact on how we think, feel, function, and behave for better or worse.
Dr. Paat has worked with many picky eaters in her holistic practice. Many also struggle in some way at school, whether it be a difficulty with reading, writing, focus, behavior, repetitive behaviors, emotionality, anger outbursts, or coordination. To respond to this situation, Dr. Paat became certified in the diagnosis and treatment of Childhood Developmental Disorders through the American Board of Functional Neurology and obtained her licentiate with the Institute for Neuro-Physiological Psychology. Regardless of Dr. Paat's functional evaluation, diagnosis, and protocol, dietary changes were foundational more often than not. The majority of the children lacked in nutrient-dense foods. Instead, the children were often stuck in a dietary pattern that included plenty of processed foods, artificial colors, preservatives, and added sugar. They were consistently deficient in whole foods such as vegetables, fruits, healthy fats, and unprocessed meat.
Education, not dictation, has been the most effective way for Dr. Paat to facilitate an intrinsically self-motivated change in each child's dietary habits, allowing her to witness the fantastic results that accompany the transition to a healthier diet.
Her unique approach to educating and empowering children has helped them make small dietary improvements over time, resulting in a positive impact on behavior, learning, focus, emotions, and physical abilities.
As a mother, Dr. Paat can relate. She has written this book to help alleviate the struggle that most parents have at home. She hopes that with the routine reading of I Don't Want to Eat That, children will learn from Jack's choices and will want to eat healthier foods, realizing the importance of making healthier food choices for themselves, much like her own daughter Roxie.
This book is dedicated to the mission of helping each child to be the best version of themselves.