She Was Like That: New and Selected Stories (Hardcover)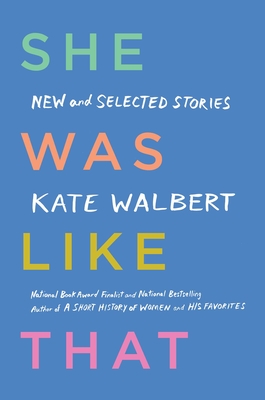 $26.00
In Stock—Click for Locations
Description
---
A NEW YORK TIMES 100 NOTABLE BOOKS OF 2019 SELECTION

From Kate Walbert, the highly acclaimed, National Book Award nominee, comes a dazzling, career-spanning collection of new and selected stories.

In these twelve deft, acutely funny and often heartbreaking stories, Kate Walbert delves into the hearts and minds of women. Her characters are searchers, uneasy in one way or another. They yearn for connection. They question the definitions assigned to them as wives, mothers, and daughters; they seek their own way within isolated, and often isolating, circumstances, reveling in small, everyday epiphanies and moments of clarity.

In the riveting opening story "M&M World," a woman is plunged into panic when she briefly loses one of her daughters at the vast and over-stimulating Times Square store. In "Slow the Heart," a single mother tries to ease tension at the dinner table with Roses and Thorns, the game she knows the Obamas played in the White House. In "Radical Feminists," a woman skating with her two children encounters the man who derailed her career years earlier. And in the poignant, "A Mother Is Someone Who Tells Jokes," a mother reflects on the nursery school project that preceded her son's autism diagnosis. This is a deeply moving, resonant collection from a writer "rightly celebrated for her ability to capture the variety and vulnerability of women's lives with a combination of lyricism and brawn" (NPR).
About the Author
---
Kate Walbert is the author of six previous books of fiction: His Favorites; The Sunken Cathedral; A Short History of Women, a New York Times Book Review 10 Best Books of the Year and finalist for the Los Angeles Times Book Prize; Our Kind, a National Book Award finalist; The Gardens of Kyoto; and the story collection Where She Went. Her work has appeared in The New Yorker, The Paris Review, The Best American Short Stories, and The O. Henry Prize stories. She lives with her family in New York City.
Praise For…
---
Praise for She Was Like That:

"A fascinatingly integrated story collection...Mother love brings strange moments of what can only be called grace, moments Walbert captures with an unusual combination of restraint and rhapsody." —Claire Dederer, The New York Times Book Review

"In this evocative collection, the love of women for their children can provide salvation or a trap. Or both, at the same time. Walbert captures maternal love and its moments of grace with an unusual combination of restraint and rhapsody."—The New York Times, Editors' Choice

"A striking, often melancholy collection [that] grapples with the joys and anxieties of motherhood."—Minneapolis Star Tribune

"An intense look at women searching — often fruitlessly — for companionship, while striving to hold on to their dreams."—Cory Oldweiler, AM New York

"This is a piercing, intimate, and exquisite collection."—Publishers Weekly

"Tales of spare, unflinching beauty show how love and loneliness can occupy a heart together." —Kirkus Reviews

"I loved these stories, wide-open, varied, generous, warm, funny."—Tessa Hadley, author of Late in the Day

"Kate Walbert is inarguably one of our foremost chroniclers of the existential dilemma of being not just a woman, but a human. With astonishing precision, alive and alert to the complications embedded in even the simplest exchange, Walbert slips into the fissures and fault lines of her utterly compelling characters doing the best of what a writer can do: she makes the familiar strange, and in doing so, reveals the glorious complexity of a world we only think we know."—Marisa Silver, author of Mary Coin