The Good Book: Writers Reflect on Favorite Bible Passages (Hardcover)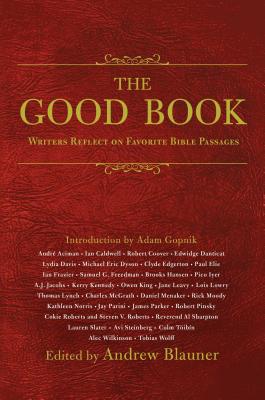 Description
---
In The Good Book, thirty-two of today's most prominent writers share never-before-published pieces about passages in the Bible that are most meaningful to them.

The Good Book, with an introduction by Adam Gopnik, collects new pieces by writers from many different faiths and ethnicities including literary fiction writers (Colm Tóibín, Edwidge Danticat, Tobias Wolff, Rick Moody); bestselling nonfiction writers (A.J. Jacobs, Ian Frazier, Thomas Lynch); notable figures in the media (Charles McGrath, Cokie Roberts, Steven V. Roberts); and social activists (Al Sharpton, Kerry Kennedy). While these contributors are not primarily known as religious thinkers, they write intelligently and movingly about specific passages in the Bible that inform the way they live, think about past experiences, and see society today. Some pieces are close readings of specific passages, some are anecdotes from everyday life, and all will inspire, provoke, or illuminate.

Addressing some of the best-known and best-loved characters and stories from Genesis to Revelation, The Good Book will be a beautiful, enlightening gift for secular readers and readers of faith as well as a collection of interest to reading groups, readers of creative nonfiction and personal essays, and fans of each of the individual contributors.
About the Author
---
Andrew Blauner is the editor of five anthologies: The Good Book: Writers Reflect on Favorite Bible Passages; Coach; Brothers; Our Boston; Central Park, and In Their Lives: A Chorus of Writers Sing the Praises of Their Favorite Beatles Songs, and is the co-editor of For the Love of Baseball. His writing has been published in The New York Times, and he has appeared on NPR's On Point, The Leonard Lopate Show, ABC, CBS, NBC, and other media outlets. He is the founder of Blauner Books Literary Agency; a graduate of Collegiate School, Brown University, and Columbia Business School; and a member of PEN American Center and National Book Critics Circle.
Praise For…
---
"Lovely….It really does justice to the richness and complexity of the texts and how they resonate in lives."
— Krista Tippett, host of NPR's On Being

"This is one of those marvelous collections you can dip into for a moment's sustenance, or linger for a long read....these pages will open layers of meaning and draw you deeper into contemplation of the essential questions and quandaries found in its chapters and verse."
— Chicago Tribune

"Substantive reading that casts the Good Book in a new light."
— BookPage

"The Good Book records the efforts of diverse readers working to make sense of the Bible—a book at once too foreign and too familiar—and in the process, treating it as though it could still somehow speak."
— Commonweal

"As The Good Book's contributors demonstrate, whether it's viewed as a source of spiritual guidance, a work of literature or history or simply as an anchor for memory, in the hands of writers as talented as the group Andrew Blauner has gathered here, the Bible's riches are both inexhaustible and infinitely challenging."
— Shelf Awareness

"A rich tapestry of reflections."
— Publishers Weekly, starred review

"Anthologist Blauner has done a particularly good job of choosing an eclectic group of commentators who offer mostly insightful and often very personal thoughts about their favorite Biblical passages....An often inspiring and always interesting collection."
— Booklist, starred review

"Reading these writings filled with humor, sadness, grief, anger, deep reflection, and fanciful wit, one is struck by the myriad ways of encountering the Bible, its place in our culture, or at least the culture it helped create.... This collection has something for everyone who appreciates good writing, regardless of what one may think of the Bible as scripture, or for that matter as literature."
— Library Journal

"It's the Sunday School class you've been waiting for, the one whose members have thought hard about the texts and are free to say what they think. The one you look forward to. God bless the Word."



— Garrison Keillor

"What a marvelous book of encounters and revelations! These writers raise questions that are age-old, yet utterly contemporary, pressing, thoughtful, eternal."
— Edward Hirsch

"Each of these thoughtful and beautifully written pieces sheds new light on one of the world's oldest and most influential books. People of all faiths will find common ground within these pages."
— Reza Aslan, author of No god but God and Zealot: The Life and Times of Jesus of Nazareth