We're following all official guidelines to keep ourselves healthy on the job, and as a result, shipping may be delayed.
You will receive an email from our web orders team confirming that your order has been processed.
We thank you for your support and your patience at this challenging time.
Double Double: A Dual Memoir of Alcoholism (Hardcover)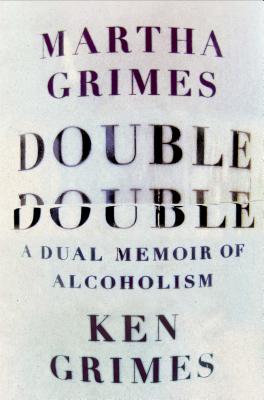 Description
---
From the opening paragraphs of Double Double:

"We were sitting in a coffee shop talking, looking at the view of downtown Charlottesville, Virginia. This was ten years ago, and we had both been off alcohol for more than a decade. We were disagree­ing about the best way to stay sober when my mother said, 'I think we should write a book about alcoholism.'

"I sat back. 'We?'

"'Both of us. Two points of view.'" —from the Foreword

Double Double is a unique, dual memoir of alcoholism, a disease that affects nearly 45 million Americans each year. People who suffer from alcoholism as well as their families and friends know that while it is possible to get sober, there is no one "right" way to do this.

Now, award-winning mystery writer Martha Grimes and her son, Ken Grimes, offer two points of view on their struggles with alcoholism. In alternating chapters, they share their stories—stories of drinking, recovery, relapse, friendship, travel, work, success, and failure.

For Martha, it was about drinking martinis at home, sometimes with friends, sometimes alone. For Ken, it was partying in bars and clubs. Each hit bottom. Martha spent time doing outpatient reha­bilitation, once in 1990 and again two years later. Ken began twelve-step recovery. This candid memoir describes how different both the disease and the recovery can look in two different people—even two people who are mother and son.

Double Double is an intensely personal and illuminating book, filled with insights, humor, a little self-deprecation, and a lot of self-evaluation. Anyone who has faced alcoholism will identify with parts of this book. All readers will find these pages revealing, moving, and compelling.
About the Author
---
Bestselling author Martha Grimes is the author of more than thirty books, including twenty-two Richard Jury mysteries. She is also the author of Double Double, a dual memoir of alcoholism written with her son. The winner of the 2012 Mystery Writers of America Grandmaster Award, Grimes lives in Bethesda, Maryland.

Ken Grimes works in the public relations industry and lives with his wife and children in suburban Maryland.
Praise For…
---
"Double Double could have been titled Double-Barreled—it hits like a .12 gauge sawed-off at close range. The brutal illumination of a dual descent into alcoholism is also a penetrating insight: the lives of a mother and son run parallel, becoming intertwined only when each found their own, very separate, way out. This is no 'self-help' book—it packs the narrative force of a Martha Grimes novel . . . and perfectly illustrates how the finest fiction is created only when its foundational basis is truth."
— Andrew Vachss, New York Times bestselling author of That's How I Roll and Blackjack