We're following all official guidelines to keep ourselves healthy on the job, and as a result, shipping may be delayed.
You will receive an email from our web orders team confirming that your order has been processed.
We thank you for your support and your patience at this challenging time.
Hyper: A Personal History of ADHD (Hardcover)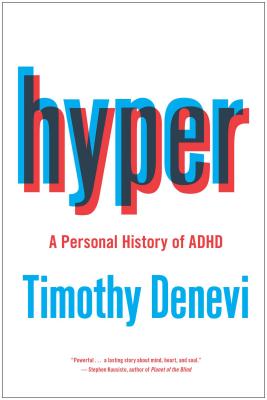 Description
---
The first book of its kind, this compelling and moving memoir about what it's like to be a child with ADHD also explains the history of the diagnosis and how we have come to medicate more than four million children today.

Among the first generation of boys prescribed medication for hyperactivity in the 1980s, Timothy Denevi took Ritalin at the age of six, and during the first week, it triggered a psychotic reaction. Doctors recommended behavior therapy, then antidepressants. Nothing worked. As Timothy's parents and doctors sought to treat his behavior, he was subjected to a liquid diet, a sleep-deprived EEG, and bizarre behavioral assessments before finding help in therapy combined with medication. In Hyper, Timothy describes how he makes his way through school, knowing he is a problem for those who love him, longing to be able to be good and fit in, hanging out with boys who have similar symptoms but meet different ends, and finally realizing he has to come to grips with his disorder before his life spins out of control.

Skillfully and seamlessly using his own experience as a springboard, Denevi also reveals the origins of ADHD, from the late nineteenth century when hyperactivity was attributed to defective moral conscience, demons, or head trauma, through the twentieth century when food additives, bad parenting, and even government conspiracies were blamed, to the most recent genetic research. He traces drug treatment from Benzedrine in 1937 through the common usage of the stupefying chlorpromazine and brand new Ritalin in the 1950s to the use of antidepressants in the 1970s, 1980s, and 1990s.

Riveting, thought-provoking, and deeply intelligent, this is a remarkable book both for its sensitive portrait of a child's experience as well as for its ability to illuminate a remarkably complex and controversial mental condition. Rick Lavoie, author of It's So Much Work to Be Your Friend, says Hyper is "a significant and singular contribution to our field."
About the Author
---
Timothy Denevi received his MFA in nonfiction from the University of Iowa. His writing has appeared in various magazines including The Atlantic, Time, Gulf Coast, and Arts & Letters, and he's been awarded fellowships by The MacDowell Colony, the Virginia Center for the Creative Arts, and the Community of Writers at Squaw Valley. He lives near Washington, DC and teaches in the MFA program at George Mason University. Hyper is his first book.
Praise For…
---
"Riveting and monumental....There's much to be learned in this book about ADHD, about pushing boundaries and respecting them, about parenting, and about the special kind of triumph that can come as a result of hard-earned self-knowledge. Denevi has written a book about a condition that has been studied for a long time, but, truly, it hasn't been talked about like this."

"Hyper is the story of all of us who have lived -- or continue to live -- with ADHD."

"Tim Denevi has written a vivid, moving, and gripping first-person account of what it's like to grow up hyper. He weaves into the narrative an erudite account of the history of ADHD. And he packs it all together in concise, vibrant prose, compact enough for even those of us who have ADHD to read! Excellent book!"
— Edward Hallowell, M.D.

"Enlightening...Readers with ADHD will find affirmation of their own thoughts and emotions, while those without the condition will experience revelations."

"In this haunting narrative [Denevi] explores the world's most scrutinized childhood condition from the inside out."

"Denevi skillfully blends a personal account of his experiences with ADHD with a thorough and enlightening social and medical history of the disease....Frank, moving, and instructive."

"Denevi skillfully weaves historical anecdotes into his personal account...excellent."

" In his remarkable book Hyper, Tim Denevi tells the story of his childhood struggles with ADHD and his evolving understanding of this puzzling disorder. His narrative captures the essence of his daily struggles and features the disarming poetic rhythm of an extraordinarily talented writer.
Over the past decade, I have often been asked to recommend books for parents and professionals who are trying to better understand ADHD. I have always responded with the titles of the three classics by Hallowell, Levine and Ratey. Now, there are four. Hyper is full of blazing insights, wisdom, information and inspiration. It is a significant and singular contribution to our field."
— Rick Lavoie, author of It's So Much Work to Be Your Friend and The Motivation Breakthrough

"At once both memoir and social history, Hyper chronicles what it was like to grow up as a kind of guinea pig for the treatment of ADHD in the 1980's. With hard-won clarity and excruciating honesty, Timothy Denevi has written a fascinating and sometimes disturbing account, never self-pitying but consistently illuminating and riveting."
— Robin Hemley, author of Nola, A Memoir of Faith, Art, and Madness

"Timothy Denevi is a wonderful, true storyteller, drawing us into his own perilous childhood while taking us through vast changes in cultural attitudes, from a time doctors described ADHD kids as feeble minded threats to civilization to the triumph of Congressional recognition of their right to treatment and education. Hyper is informative, moving, and entertaining––quite a feat."
— Robert Shapard, editor of New Sudden Fiction and Flash Fiction Forward

"In Hyper the interior life of a misunderstood boy is honored with lyric language. Tim Denevi has written a memoir about emotional vulnerability and recovery in the literary tradition of Styron and Susanna Kaysen. This is a powerful, literary book about childhood medication and its human cost. It's also a lasting story about mind, heart, and soul."
— Stephen Kuusisto, author of Planet of the Blind

"Tim Denevi tells two stories--episodes in the history of the diagnosis and treatment of ADHD and episodes of his own life, from early childhood to maturity. He shows us how terribly difficult (and time after time, inadequate) has been the scientific and therapeutic effort to alleviate the suffering of children and youths. And with immediacy and clarity he narrates his own past anguish and bafflement (and that of his parents) as they all three tried to make sense of his impulses and vulnerabilities. Over time, they found their way to everyday ordinary human success at life, and Tim Denevi has found the way to write about it--a very impressive success indeed."
— Reginald Gibbons, author of Slow Trains Overhead: Chicago Poems and Stories.

"Intriguing…A well-written, easy-to-read journey of one man's experience living with ADHD and the history of the disorder. Parents may see their children in Denevi's story, and adults may see themselves in the childhood accounts that are shared here."

"What's been missing from the discussion are the personal accounts from people who navigate the world with this disorder coloring every aspect of their lives. Enter Timothy Denevi, who gives a first-person account of growing up with ADHD by marshaling his masterful storytelling skills[…] seeing Denevi overcome his childhood struggles with ADHD and go on to lead a normal, productive life can offer hope to families of children with ADHD."