We're following all official guidelines to keep ourselves healthy on the job, and as a result, shipping may be delayed.
You will receive an email from our web orders team confirming that your order has been processed.
We thank you for your support and your patience at this challenging time.
The Accidental Tourist (MP3 CD)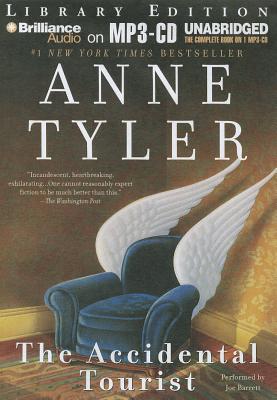 Description
---
Macon Leary is a travel writer who hates both travel and anything out of the ordinary. He is grounded by loneliness and an unwillingness to compromise his creature comforts. Then he meets Muriel, a deliciously peculiar dog-obedience trainer who upends Macon's insular world and thrusts him headlong into a remarkable engagement with life.
Bittersweet Evocative It's easy to forget this is the warm lull of fiction; you half-expect to run into her characters at the dry cleaners. Tyler is] a writer of great compassion. "The Boston Globe"
Tyler has given us an endlessly diverting book whose strength gathers gradually to become a genuinely thrilling one. "Los Angeles Times"
A delight A graceful comic novel about getting through life. "The Wall Street Journal"
A rarely equaled richness and depth delicious humor Without Anne Tyler, American fiction would be an immeasurably bleaker place. "Newsday"