Soar!: Build Your Vision from the Ground Up (Paperback)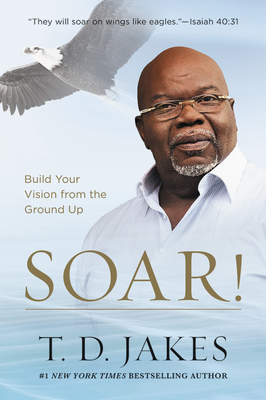 $14.99
Not On Our Shelves—Ships in 1-5 Days
Description
---
You don't have to be an entrepreneur to think like one and take flight with your dreams.

Too often we remain in jobs that stifle our souls and leave us on the runway of opportunity with the engine of our deepest passion stalled, watching others make their personal vision a reality and build a legacy for their children-the opposite of what God intends for us. But it's never too late to get your dreams off the ground! If you long to maximize your unique abilities and aptitudes, if you strive to combine personal fulfillment with professional satisfaction, if you dream of creating exceptional goods and offering transformative services and fulfilling God's destiny for you, then you are ready to SOAR!

In SOAR! T.D. Jakes reveals how to build the uniquely personal vision within each of us into our special contribution to the world. Blending the practical business acumen of a successful, global CEO with the dynamic inspiration of a life coach, SOAR! provides the tools needed to ignite our imaginations into action and challenges us to embrace our God-given purpose as we align our character and creativity with our careers.

Bridging both the corporate and nonprofit worlds, SOAR! is a practical and easy-to-follow flight plan for launching the entrepreneurial drive inside each of us. It provides an inspiring look into the mindset of people who don't wait to see what will happen but strategically build the wings that will take them to new heights. So buckle your seat belts and prepare for liftoff-you have been cleared to fly beyond your fears, to absolutely SOAR!
About the Author
---
Bishop T. D. Jakes is one of the world's most widely recognized pastors and a New York Times bestselling author of more than thirty books. Named byTime magazine as "America's Best Preacher," his message of healing and restoration is unparalleled, transcending cultural and denominational barriers. Jakes is the founder and senior pastor of The Potter's House, which has a congregation of more than 30,000. His weekly television outreach, The Potter's House, and his daily television program, The Potter's Touch, have become favorites throughout America, Africa, Australia, Europe, and the Caribbean. Jakes lives in Dallas, Texas, with his wife, Serita. Learn more about Bishop Jakes at www.tdjakes.org and www.thepottershouse.org.
Praise For…
---
With his trademark warmth, wisdom and wit, Jakes will inspire you to
quit procrastinating and start flying to new heights. If you're ready to
take the next step in your career, life and dreams, this book could be
the breakthrough you've been waiting f—Rev. Samuel Rodriguez, president of the National Hispanic Christian Leadership Conference, nominated by TIME magazine as one of the top 100 influential leaders in America

As a 30-year entrepreneur, we have technical books to tell us how to
start a new business and motivational books to inspire us in pursuit of
our dreams. But no book I've read has ever combined the two the way T.D.
Jakes does in Soar! Drawing on many personal examples and
focusing on the rapid growth of new ventures started by women, Jakes
synchronizes information with inspiration to create a perfect set of
wings for all dreamers wanting to get off the ground.—Hattie Hill, President & CEO, Women's Foodservice Forum