We're following all official guidelines to keep ourselves healthy on the job, and as a result, shipping may be delayed.
You will receive an email from our web orders team confirming that your order has been processed.
We thank you for your support and your patience at this challenging time.
We Are La Cocina: Recipes in Pursuit of the American Dream (Global Cooking, International Cookbook, Immigrant Cookbook) (Hardcover)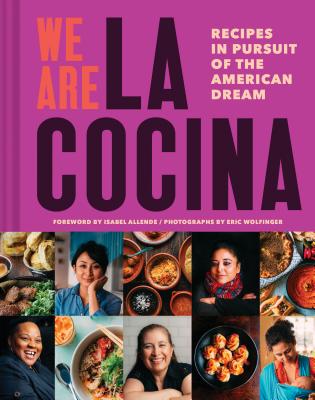 Description
---
Recipes and stories from more than 50 successful La Cocina entrepreneursWith 100+ recipes that span the globe from the United States, Mexico, Japan, Brazil, Senegal, Vietnam, and many more:
Powerful stories. Beautifully evocative visuals. More than 100 recipes for all occasions, from many cultures. Here, in La Cocina's first cookbook, more than 50 successful La Cocina entrepreneurs share their inspiring narratives—and their delicious recipes!
2020 IACP Awards Finalist - Food Issues & Matters.
This is the book for cooks who love great global recipes and support organizations that make a big difference.
More than 150 photographs from award-winning photographer Eric Wolfinger capture the spirit of the people, the mouthwatering food, and the diversity of the immigrant experience.
La Cocina is an incubator kitchen that provides affordable commercial kitchen space, industry-specific technical assistance, and access to market opportunities to women of color and immigrant communities.
"La Cocina is food at its finest: inspiring, instructional, political, and delicious. This book brings the vitality of La Cocina and its mujeres through wonderful recipes—and even better stories."—Gustavo ArellanoThis cookbook reflects the flavors and foods of the city where La Cocina was founded. It will help you find inspiration in your own kitchen, in the kitchens that you pass on your way to work, and in the neighborhoods you've been meaning to visit.
Delicious recipes will make your kitchen smell like you've traveled around the world
Mouthwatering global recipes include Golveda Ko Achar (Tomato Cilantro Sauce), Mafé (Peanut Stew), Kuy Teav Phnom Penh (Cambodian Noodle Soup), and many more.
About the Author
---
Caleb Zigas is executive director of La Cocina. He lives in San Francisco.

Leticia Landa is deputy director of La Cocina. She lives in San Francisco.

Eric Wolfinger is an award-winning San Francisco–based food and lifestyle photographer.
Praise For…
---
"This book is important. These stories are joyous. This book is delicious. These recipes work. This book celebrates our imperfect union. And the many peoples who claim our nation. In this moment of doubt and turmoil, America needs the brilliance and brio of the women of La Cocina. And American needs that recipe for bai sach chrouk on page 191."—John T. Edge

"It can be easy, these days, to feel overwhelmed and exhausted and defeated by the problems of the world. Food has always been the balm to those emotions for me; it allows us to come together and be nourished, body and soul. The La Cocina cookbook goes one step further: it provides the fodder—through delicious recipes—for the nourishing; but it also provides the inspiration, through the incredible stories of the women who make up the program, to keep fighting the good fight. These pages will remind you of the power of food, and the incredible impact it can have on creating a better future for all."—Ashley Christensen

"La Cocina is food at its finest: inspiring, instructional, political, and delicious. This book brings the vitality of La Cocina and its mujeres through wonderful recipes—and even better stories."—Gustavo Arellano

"This book is for those of us who've watched someone they love put everything they have into a business-the moms, aunties, sister-girls, and grandmas who never seem to stop moving-and while their work is far from done, for a moment, while turning these pages, you get to bask in the glory of their commitment and dedication come to life." —Osayi Endolyn

"This book is a must-have! These women will inspire you, not only to cook their great recipes, but to follow your own dreams despite the adversities we all face. They shine a very bright light on life and knowing their stories makes the world a better place."—Traci Desjardins

"This book is a great place to start if you want to travel with your fork. Full of beautiful photography with recipes that are not only approachable, but delicious and authentic." —Padma Lakshmi, writer, host, and executive producer of Top Chef

"There are few places, in popular food, where theoretical ideas of equity meet the formidable reality of actually practicing equity. La Cocina is this place and this new book reflects the hard joys and painful rewards necessary to make it happen." ."—Tunde Wey