We're following all official guidelines to keep ourselves healthy on the job, and as a result, shipping may be delayed.
You will receive an email from our web orders team confirming that your order has been processed.
We thank you for your support and your patience at this challenging time.
Speak of the Devil: A Novel (Anna Curtis Series #3) (Hardcover)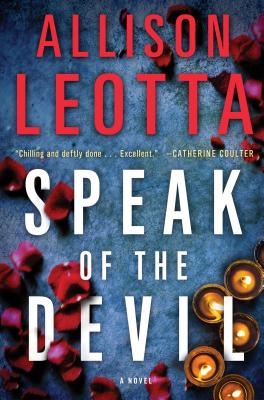 Other Books in Series
This is book number 3 in the Anna Curtis Series series.
Description
---
For readers of Kathy Reichs, Lisa Scottoline, Patricia Cornwell, and Lisa Gardner, a new thriller by former federal sex-crimes prosecutor Allison Leotta.

SPEAK OF THE DEVIL—AND HE WILL APPEAR

On the very night she gets engaged to the man she loves, sex-crimes prosecutor Anna Curtis's professional life takes a shocking turn that threatens everything she holds dear.

While Anna is enjoying a romantic dinner capped off by a marriage proposal, a few miles away two separate groups are gearing up to raid a brothel. A vicious killer known as Diablo—the Devil—leads one group. A few minutes later, Anna's own investigative team heads in to search the brothel, as part of the fight against human trafficking in D.C. Both groups are caught off guard, with deadly results.

As Anna investigates the bloody face-off, the boundaries between her work and home life begin to blur. Though eager to focus on her new fiancé, the chief homicide prosecutor Jack Bailey, and her soon-to-be stepdaughter, Olivia, this case and the search for Diablo are never far from her mind.

When Anna discovers a web of long-buried secrets and official lies leading straight to her doorstep, the truth about this case threatens to rob her of the happiness she seemed so close to securing. And everything Anna counted on becomes a question mark as Diablo moves in for yet another kill.

Allison Leotta draws on her experience as a D.C. sex-crimes prosecutor to take readers into the back rooms of the U.S. Attorney's Office, the hidden world of the Witness Protection Program, and the secret rituals of one of America's most dangerous gangs. Universally praised by bestselling authors from Catherine Coulter and George Pelecanos to Lisa Scottoline and David Baldacci, Leotta weaves fact and fiction to create her best novel yet.
About the Author
---
Allison Leotta was a federal sex-crimes prosecutor in Washington, DC, for twelve years. In 2011, she left the Justice Department to pursue writing full time. She is the acclaimed author of Law of Attraction, Discretion, Speak of the Devil, A Good Killing, and The Last Good Girl and founder of the award-winning blog, The Prime-Time Crime Review. Leotta lives with her husband, Michael, and their two sons outside of Washington, DC. Visit her online at AllisonLeotta.com.
Praise For…
---
Praise for Speak of the Devil:

"If you relish hard-hitting, take-no-prisoners cops and a sharp, committed prosecutor who doesn't hesitate to face down evil, Speak of the Devil is for you. . . . An excellent book."
— Catherine Coulter

"The moment you start reading, you'll realize Allison Leotta doesn't just write about this world. She lives in it—and works in it. She's absorbed all its darkest parts. That's why Speak of the Devil comes to life in the most haunting and best way."
— Brad Meltzer

Praise for Discretion:

Named One of the Top Ten Best Books of 2012 by Strand Magazine

"Leotta, a federal former prosecutor, writes with authority and authenticity. Imagine one of the best episodes of the TV series, Law and Order: SVU but set in Washington, D.C., instead of New York City. Besides the realistic feel of the courtroom machinations, Leotta also takes readers on a journey inside the elite of Washington and the world of escort services."
— Associated Press

"A first-rate thriller. Leotta nails the trifecta of fiction: plot, pace and character. Ranks right up there with the wonderful Linda Fairstein."
— David Baldacci

"Allison Leotta scores big again with Discretion, her top-notch follow up to Law of Attraction. Smart and sexy, Discretion showcases Leotta's rock-solid plotting as well as another star turn for her protagonist, Assistant U.S. Attorney Anna Curtis. If you liked Law of Attraction—and who didn't?—you'll love this one!"
— John Lescroart

"The best legal thriller I've read this year, beautifully crafted and frighteningly real. Leotta knows her stuff cold and will bring you into a world of big money, corruption, high-end prostitution and murder. If you're a fan of Grisham or Richard North Patterson, you simply have to buy this novel."
— Douglas Preston

"Fresh, fast, and addictive, and Allison Leotta's experience as a federal sex-crimes prosecutor shines through on every page. The result is a realistic legal thriller that's as fun to read as it is fascinating."
— Lisa Scottoline

"Allison Leotta is quickly making her place at the table of D.C.'s finest crime and legal thriller novelists. She's an assured and authentic voice, and a highly entertaining storyteller. Discretion is another winner from this talented writer."
— George Pelecanos

"A terrific read. Slick, sexy, and very smart. Allison Leotta is a master at creating tension and then mercilessly tightening it. This is the kind of book I love to read, crafted by a wonderfully imaginative writer, who really knows what she is talking about. Allison Leotta is headed to the top of the heap."
— Michael Palmer