We're following all official guidelines to keep ourselves healthy on the job, and as a result, shipping may be delayed.
You will receive an email from our web orders team confirming that your order has been processed.
We thank you for your support and your patience at this challenging time.
I'm Only in This for Me: A Pearls Before Swine Collection (Paperback)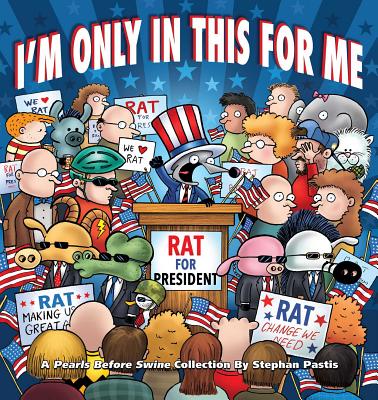 Other Books in Series
This is book number 25 in the Pearls Before Swine series.
Description
---
Includes Bill Watterson's collaborated cartoons!
Are you tired of America's broken politics, tired partisan bickering, and really lame newspaper comics? Well, Stephan Pastis can't help you with the first two. But he, along with Rat, Pig, and the rest of the animal crew from Pearls Before Swine, voted the Most Reprehensible Comic Strip in the Continental U.S. by the League of Easily Offended and Unfunny Citizens*, are doing their best to make the American comic great again.

In I'm Only in This for Me, the Pearls gang dares to tell the hard truths that the country needs to hear: the importance of prioritizing cheese over everything else, the sadly ignored capacity of bears to solve all of life's problems, and the crucial Recognition Gap between women in bars and semi-obscure cartoonists with delusions of grandeur.
 
But beneath all the selfishness, absurdity, bungling crocs, and bazooka-wielding ducks, Rat, Pig, Goat, and Zebra continue to find that friendship can make life warmer, humor can make stupidity less annoying, and cheese really does make everything way, way better.
 
Lastly, this collection features the triumphant return of a legendary comics icon: Stephan Pastis! (And also some weirdo named Bill Watterson.)
 
 
 
*Not an actual group or award
About the Author
---
Stephan Pastis is an attorney turned cartoonist. A graduate of the University of California, Berkeley, and the UCLA School of Law, he worked as a lawyer before trying his hand at cartooning. Pastis lives in the Bay Area with his wife and two children.