Behemoth (CD-Audio)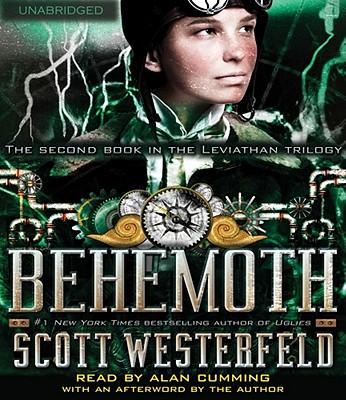 Other Books in Series
This is book number 2 in the Leviathan series.
Description
---
"The request line for the sequel can start forming now."*

The behemoth is the fiercest creature in the British navy. It can swallow enemy battleships with one bite. The Darwinists will need it, now that they are at war with the Clanker Powers.
Deryn is a girl posing as a boy in the British Air Service, and Alek is the heir to an empire posing as a commoner. Finally together aboard the airship Leviathan, they hope to bring the war to a halt. But when disaster strikes the Leviathan's peacekeeping mission, they find themselves alone and hunted in enemy territory. Alek and Deryn will need great skill, new allies, and brave hearts to face what's ahead.

"…Westerfeld's brilliantly constructed imaginary world will capture readers from the first page. Full of nonstop action, this steampunk adventure is sure to become a classic."

—School Library Journal, starred review of Leviathan
*BCCB
About the Author
---
Scott Westerfeld is the author of the Leviathan series, the first book of which was the winner of the 2010 Locus Award for Best Young Adult Fiction. His other novels include the New York Times bestseller Afterworlds, the worldwide bestselling Uglies series, The Last Days, Peeps, So Yesterday, and the Midnighters trilogy. Visit him at ScottWesterfeld.com or follow him on Twitter at @ScottWesterfeld.

Alan Cumming is a Tony Award-winning actor whose theater credits include Cabaret, The Seagull, Hamlet, and The Threepenny Opera. His films include the Spy Kids trilogy, The Smurfs, The Anniversary Party, X2: X-Men United, Goldeneye, Emma, Circle of Friends and Eyes Wide Shut. On television he has appeared on The Good Wife, Sex and the City, Frasier, Third Rock From the Sun, The L Word, and many more. He has also written a novel, Tommy's Tale, and released an album, A Bought a Blue Car Today.