Bad Religion: How We Became a Nation of Heretics (Hardcover)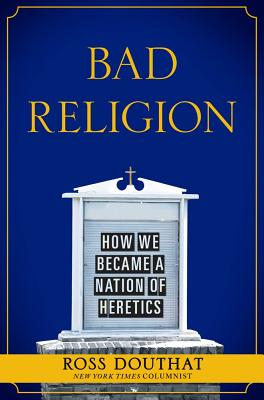 Description
---
From the popular New York Times columnist, a powerful and original critique of how American Christianity has gone astray--and the deeply troubling consequences for American life and politics. As the youngest-ever op-ed columnist for the New York Times, Ross Douthat has emerged as one of the most provocative and influential voices of his generation. In Bad Religion he offers a masterful and hard-hitting account of how American Christianity has gone off the rails--and why it threatens to take American society with it. Writing for an era dominated by recession, gridlock, and fears of American decline, Douthat exposes the spiritual roots of the nation's political and economic crises. He argues that America's problem isn't too much religion, as a growing chorus of atheists have argued; nor is it an intolerant secularism, as many on the Christian right believe. Rather, it's bad religion: the slow-motion collapse of traditional faith and the rise of a variety of pseudo-Christianities that stroke our egos, indulge our follies, and encourage our worst impulses. These faiths speak from many pulpits--conservative and liberal, political and pop cultural, traditionally religious and fashionably "spiritual"--and many of their preachers claim a Christian warrant. But they are increasingly offering distortions of traditional Christianity--not the real thing. Christianity's place in American life has increasingly been taken over, not by atheism, Douthat argues, but by heresy: debased versions of Christian faith that breed hubris, greed, and self-absorption. In a story that moves from the 1950s to the age of Obama, he brilliantly charts institutional Christianity's decline from a vigorous, mainstream, and bipartisan faith--which acted as a "vital center" and the moral force behind the civil rights movement--through the culture wars of the 1960s and 1970s to the polarizing debates of the present day. Ranging from Glenn Beck to Barack Obama, Eat Pray Love to Joel Osteen, and Oprah Winfrey to The Da Vinci Code, Douthat explores how the prosperity gospel's mantra of "pray and grow rich," a cult of self-esteem that reduces God to a life coach, and the warring political religions of left and right have crippled the country's ability to confront our most pressing challenges and accelerated American decline. His urgent call for a revival of traditional Christianity is sure to generate controversy, and it will be vital reading for all those concerned about the imperiled American future.
About the Author
---
Ross Douthat is a columnist for The New York Times op-ed page. He is the author of Privilege: Harvard and the Education of the Ruling Class and Grand New Party: How Republicans Can Win the Working Class and Save the American Dream. Before joining the Times he was a senior editor for The Atlantic. He is the film critic for National Review, and he has appeared regularly on television, including Charlie Rose, PBS Newshour, Real Time, and The Colbert Report.
Praise For…
---
"Not only is Ross Douthat's account of orthodox Christianity's decline provocative, but his critique of today's ascendant heresies is compelling. This volume is a sustained proof of Chesterton's thesis that when people turn from God, 'they don't believe in nothing—they believe in anything.' Everyone who is interested in why the church is faring as it is in U.S. culture today needs to get this book."
—Timothy Keller, Redeemer Presbyterian Church, New York City


"Bad Religion is superb: sharply critical of the amazing variety of American religious pathologies, but fair; blunt in diagnosis, but just; telling a dark tale, but telling it hopefully. For those trying to understand the last half-century or more of American religion, and to strive for a better future, it is an indispensable book."
—Alan Jacobs, author of The Narnian: The Life and Imagination of C. S. Lewis



"Ross Douthat's thoughtful, articulate, wide-ranging, sometimes contrarian and always provocative new book asks a tough question: Why has Christianity been so misunderstood, and so misused, in the past few decades? From those who (foolishly) watered down the most basic Christian beliefs, to those who (falsely) promised worldly success to the followers of Jesus, the values of orthodoxy (literally, "right belief") have often been blithely set aside. With an impressive command of both history and contemporary social trends, Douthat shows not only how we ended up with a Christianity of our own making, but also how we can reclaim an adherence to the teachings of the real Jesus—not just the convenient one."
—James Martin, SJ, author of The Jesuit Guide to (Almost) Everything



"Bad Religion is nothing short of prophetic. In a time of religious, political, and cultural upheaval, Ross Douthat tells the American faithful—liberals, conservatives, and everybody in between—not what we want to hear, but what we desperately need to hear. With this provocative and challenging work that no thoughtful Christian can afford to ignore, Douthat assures his place in the first rank of his generation's public intellectuals."
—Rod Dreher, author of Crunchy Cons and senior editor of The American Conservative



"A brilliantly reasoned argument for orthodox Christianity and the need for vibrant faith in society. In this perceptive and timely work, Ross Douthat extolls the 'vital center' of belief while calling out the fashionable heretics among us. This is one 'Bad Religion' we can all believe in."
—Raymond Arroyo, New York Times bestselling author, host of EWTN's The World Over Live



"Mr. Douthat offers a lively, convincing argument for what kind of religion we need."

-Mark Oppenheimer


"Bad Religion" is an important book. It brings a probing, perceptive analysis to bear on the tragic hollowing out of American Christianity. In Douthat, readers have a guide who explains how we ended up drinking at a narcissistic trough draped in spirituality that doesn't quench anybody's deepest thirst...."

-G. Jeffrey MacDonald