Coach: 25 Writers Reflect on People Who Made a Difference (Excelsior Editions) (Paperback)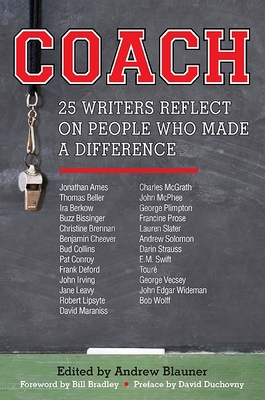 $19.95

Special Order—Subject to Availability
Description
---
The really great coaches engage their players in a quest to be the best. In the right player-coach relationship, a quiet 'well done' can go a long way. These individual stories taken together form a narrative of value that shows us the powerful reward of vision, hard work, and the belief that together we can be something bigger and better than if we never listened to, learned from, or engaged with the people we encounter in our lives. -- from the Foreword by Bill Bradley

What happens when 25 wonderful writers meet 25 unforgettable coaches? The 25 life lessons you are holding in your hands. -- Gary Smith, Sports Illustrated

Compelling ... rich ... an all-star squad of scribblers. You don't have to be an ex-jock with a trophy case to find someone you can relate to here. -- The Los Angeles Times

Coach One measly monosyllable, yet the word can evoke the entire range of human emotion, as it does in this masterful and touching anthology which promises endless pleasure for anyone who has experience coaching on either side. -- Madeleine Blais, Pulitzer Prize winner and author of In These Girls, Hope Is a Muscle

This intriguing collection of essays will remind anyone who's ever been coached that it can be a powerful experience. Coaches come in all sorts of flavors. The gruff and kind appear here, as do the wise and the foolish, the encouraging and the destructive, and some in whom lots of these qualities and inclinations are curiously mixed. What the coaches share, at least in this remarkable collection of writers chronicling coaching, is that they are unforgettable. -- Bill Littlefield, Host of National Public Radio's Only a Game

A solid, entertaining collection recognizing great coaches, and a Beelzebub or two. -- Kirkus Reviews

A moving and often humorous collection. -- Booklist

Here is a book for all of us who teach to consider--the way students learn through those who help them learn how to use their bodies (and minds) while doing athletic work. Coaches offer so much to athletes--addressing their minds, hearts, and souls--as this extraordinary anthology lets us know so very well. -- Robert Coles, author of Children of Crisis

Perfect ... refreshing ... makes a true connection with the reader ... Sweet and often funny vulnerability, revealing the part of the writer that is willing to be coached. The collection has perfect 'pitch.' Writers pay tribute to coaches in the purest sense, showing their lasting influences. -- USA TODAY

Coaches--after parents, offsprings, siblings, religious leaders, teachers, and rules--are the most important beings on earth. Good ones can change your world. Bad ones, too. From E. M. Swift's crusty, old Frank Ward to Christine Brennan's protective Miss O.--the whistle-tooters in Coach prove the point again and again: coaches really matter. -- Rick Telander, author of Heaven Is a Playground

What coach wouldn't love to have this team? -- Roy Blount Jr.

Coach is a collection of wise, funny, and humane writing on a subject that's poignant and elusive and usually sentimentalized into something unrecognizable. The intimacy of these accounts--some defiant, some celebratory, some subversively resentful--is what I enjoyed most. -- Alec Wilkinson, author of My Mentor

A superlative book. The stories in this anthology are, by turns, funny, wise, poignant, and always inspirational. This is a book you will cherish. -- Peter Bonventre, ESPN

This vivid, eloquent exploration of the connections between kids and their coaches is a memoir gem, a series of stories ranging from inspirational life-changing coaches to sadistic life-changing coaches. These stories speak to any parent whose child is being coached and to anyone who has ever been benched, been yelled into excellence, or been told to drop and do another twenty. Funny, sad, and inspirational. -- Susan Cheever, author of Home Before Dark and My Name Is.