Why Patents Don't Work: How a Broken Patent System Thwarts Innovation and Curbs Competition (Paperback)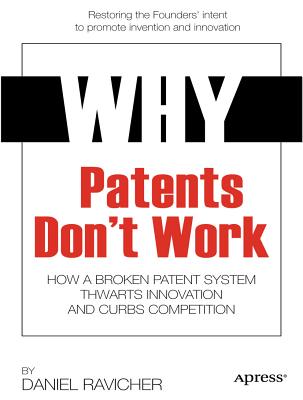 $29.99
Special Order—Subject to Availability
Description
---
Everyone's heard the story about the little guy in his garage who came up with a great invention, got a patent, and then became wildly successful selling his product to millions. Problem is, garage-inventor millionaires are pretty hard to find. Filing for a patent is complicated, expensive, time consuming, and then subject to myriad challenges from vested interests. In fact, the patent system today is most often used by well-heeled individuals and organizations to impede the introduction of better products by competitors.
Why Patents Don't Work: How a Broken Patent System Thwarts Innovation and Curbs Competition is the story of America's patent system, written for people curious about why we have patents, how they work, whom they benefit, and what effects they have on society. Lately, the story is not pretty. The book explains how low-quality patents issued by an overburdened Patent Office, together with rampant litigation, have slowed technological innovation and choked off competition inmany of our most robust industries.
After walking the reader through the history of the modern-day patent system, Why Patents Don't Work provides example after painful example of how the system today threatens not just product development and economic competition but routine aspects of daily life like health care and means of communication. Why Patents Don't Work concludes with a call for society toenact the necessary reforms that will ensure the patent system regainsits ethical and moral underpinnings and once againbenefits all Americans. This book: Tells the story of how the patent system evolved from the time our Founders included it in the Constitution, when it was intended to promote progress, to today, where it often rewards those companies and individuals who understand, and are willing to spend to win, the game. Describes the overall harmful effect today's patent system has on society, both economically and socially. Tells the stories of patent trolls who extract dubious license fees, threaten lawsuits, and slow down the economy; of large companies, working with research universities, that attempt to patent things like human genes and stem cells; oftaxpayer-funded research projects that result in privately held patents; and of patents granted forsequences of activitieseven such things as how to use mock trials to prepare for a real one. Suggests concrete ways we can revive the true purpose of the patent system in order toensure America remains the world's leading technological innovator while respecting fair competition and individual liberty. What you'll learn
You will learn: The reason patents were important to our Founders and included in the Constitution. How the patent system was transformed through a series of unchecked government actions in the 1980s into a system of entitlements rewarding legal manipulation and technological laziness. Where the patent system is still functioning as intended and why. The economic harm caused to society by today's patent system. How today's patent system works to restrict individual freedom and free markets. What can be done to recapture the glory of the patent system and return it to its original purpose. Who this book is for
Why Patents Don't Work: How a Broken Patent System Thwarts Innovation andCurbs Competitionis for anyone concerned about how patents, one of the building blocks of an advanced economy, are now often used as weapons to create product monopolies or extract license fees. It's for basement inventors who need to understand the challenges they face in getting rewarded for their sweat. And it's especially for those in the tech worldhardware and software bothworried that the the day's mail will bring a patent-related cease-and-desist letter or demand for a license fee.
About the Author
---
Daniel B. Ravicher is executive director of the Public Patent Foundation (PUBPAT), a not-for-profit legal services organization protecting freedom in the patent system. Under Ravicher's direction, PUBPAT has successfully challenged undeserved patents on software, pharmaceuticals, and the Internet to provide the public the access to technology it rightfully deserves. Labeled a modern day Robin Hood by Science magazine, and awarded an Echoing Green Fellowship for being one of the world's leading social entrepreneurs, Ravicher is a registered patent attorney who writes and speaks frequently on patent law and policy, including twice testifying as an invited witness before Congress on the topic of patent reform. As a result of his accomplishments and professional reputation, Ravicher was named to both Managing Intellectual Property magazine's 50 Most Influential People in IP list and IP Law & Business magazine's Top 50 Under 45 list.