Pet Records (Hardcover)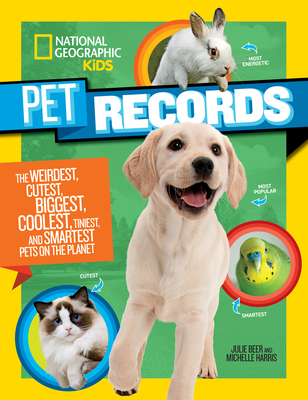 $24.90
Not On Our Shelves—Ships in 1-5 Days
Description
---
This book goes to extremes to introduce kids to the best of the best in the world of over-achieving, amazing, record-setting pets!

Pets are more than just our animal besties. They're totally extreme! From the largest to the smallest, the biggest braniacs to the most awesome athletes, discover the amazing talents of all kinds of animals, including dogs, cats, bunnies, horses, reptiles, fish, even insects, and more. Some were just born this way. Others have worked hard to develop their skills. Plus, you'll dive into the details behind the records, see how different pets match up, and encounter some of the world's wackiest pet places. With eye-popping design, unforgettable photographs, and amazing stats, this book is sure to become the leader of the pack on every kid's bookshelf!
About the Author
---
MICHELLE HARRIS is an editor, researcher, and writer with 20 years of publishing experience. Harris has covered a wide range of topics, from science and the natural world to politics and current events. She has written several books for National Geographic Kids, including Weird But True! and 5,000 Awesome Facts [About Everything!]. JULIE BEER has been a writer, editor, and researcher in publishing and radio for more than 20 years. She is a seasoned National Geographic Kids book contributor with a Weird But True! specialty.