We're following all official guidelines to keep ourselves healthy on the job, and as a result, shipping may be delayed.
You will receive an email from our web orders team confirming that your order has been processed.
We thank you for your support and your patience at this challenging time.
The Mindful Day: Practical Ways to Find Focus, Calm, and Joy From Morning to Evening (Hardcover)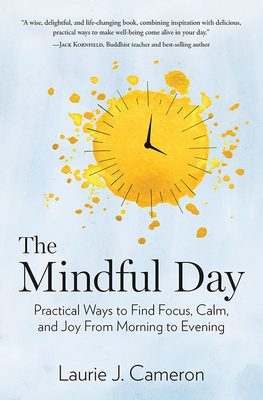 $21.99
Not On Our Shelves—Ships in 1-5 Days
Description
---
For overscheduled professionals looking to incorporate mindfulness into their daily lives, this bestselling, step-by-step guide draws on contemplative traditions, modern neuroscience, and leading psychology to bring peace and focus to the home, in the workplace, and beyond.

Designed for busy professionals looking to integrate mindfulness into their daily lives, this ultimate guide draws on contemplative practice, modern neuroscience, and positive psychology to bring peace and focus to the home, in the workplace, and beyond.
In this enriching book, noted mindfulness expert and international teacher and business leader Laurie J. Cameron - a veteran of the Search Inside Yourself Leadership Institute, a Senior Fellow at the Center for the Advancement of Well-Being at George Mason, and 20-year mindfulness meditation practitioner- shows how to seamlessly weave mindfulness and compassion practices into your life. Timeless teachings, compelling science and straightforward exercises designed for busy schedules -- from waking up to joy, the morning commute, to back-to-back meetings and evening dinners - show how mindfulness practice can help you navigate life's complexity with mastery, clarity and ease. Cameron's practical wisdom and concrete how-to steps will help you make the most of the present moment, creating a roadmap for inner peace - and a life of deeper purpose and joy.
About the Author
---
Leadership coach and teacher LAURIE J. CAMERON combines Eastern traditions, positive psychology, and neuroscience to help bring mindfulness to business, education, and parenting. In addition to founding PurposeBlue, a leadership company dedicated to mindfulness, Cameron is a certified teacher for Google's Search Inside Yourself Leadership Institute, which uses mind training and modern technology to help professionals thrive. With 25 years of international management consulting and business leadership experience, Cameron is a sought-after speaker in the United States, Europe, and Asia and has worked with such companies as Google, Deloitte, NASDAQ, Scripps Networks, Accenture, Blue Shield, Williams-Sonoma, Chevron, and H.J. Heinz.
Praise For…
---
Ranked #2 on Washington Post bestseller list November 10, 2019

"A great resource for anyone that is looking to put a little more peace in their lives (aren't we all looking for that???)." - A Bookish Affair

"What I appreciate about this book is that the author gives the reader dozens of specific ways to put the BIG concept of mindfulness to practical use." –happysimpleliving.com

"These exercises increased my intentions at least 20% and I felt overjoyed with the results."
 –Patricia's Wisdom

"A great resource for those who are getting started in their journey with Eastern traditions and positive psychology. It's accessible to those with no previous background in these fields, and it's a great way to re-focus on the here and now and not the "what-ifs" of everyday life."
–Wining Wife 

"If you are over anxious (like yours truly) this book has amazing calming techniques for all parts of your day." Instagram: @teachlikeagirl 

"A book I will have on my nightstand for a long time. Working one day at a time to become more mindful in all aspects of my life." –wellandworthylife.com
 
"A powerful little book and a practical guide to implementing mindfulness in our daily lives. [It] doesn't just tell us why we need mindfulness, but shows us how to achieve it" –momssmallvictories.com

"In her upcoming book, The Mindful Day: Practical Ways to Find Focus, Calm, and Joy From Morning to Evening, Cameron illustrates a number of techniques individuals can use to reframe stressful situations." –The Enterprisers Project

"Imagine living a life fully present, open to receiving the gifts each day brings with open awareness and deep gratitude.  Laurie Cameron's beautiful guide offers simple and fresh suggestions for developing such a mindful way of being in the world—exploring science-established formal approaches as well as informal ways we can create a meaningful and connected life at work, at home, and in loving relationships from romance to parenting.  Studies reveal how the health of our bodies--including the molecules the shape our physiological well-being as well as the structure of our brains-- and the connections we have in our close relationships with others are greatly enhanced when we develop our minds to be open to present moment experience.  Research supported and profound yet practical, this inspiring book will bring insights, well-being and joy into the lives of those new to cultivating awareness as well as long-time practitioners in the art of awakening the mind." 
—Daniel J. Siegel, M.D., Clinical Professor, UCLA School of Medicine, and New York Times bestselling author, Mind: A Journey to the Heart of Being Human; and Aware: The Science and Practice of Presence

"If you want a totally doable, realistic way to bring mindfulness alive in your daily life—waking up, working, relating, going to bed—The Mindful Day is a perfect guide. Rather than racing through to the finish line, let this wise book awaken you to the wonder and love and mystery in each passing day." 
—Tara Brach, psychologist, teacher, and author of Radical Acceptance and True Refuge
 
"A wise, delightful and life-changing book, combining inspiration with delicious, practical ways to make well-being and care come alive in your day."
—Jack Kornfield, Buddhist scholar, teacher, and best-selling author of A Path With Heart
 
"You will love this book. The Mindful Day is a refreshing, practical approach to applying the skills of mindfulness and compassion to live with more wonder, love and joy.  In a voice that is warm and clear, Laurie Cameron offers inspiring guidance, compelling science, and illuminating stories that will transform your experience, and your life."
—Chade-Meng Tan, author of New York Times bestsellers Joy on Demand and Search Inside Yourself
 
"The ability to design and implement a day focused on what is essential is the essence of a meaningful life. This book provides a delightful guide to doing just that. Read this and gently apply it day by day. You will never regret it."
—Greg McKeown, author of New York Times bestseller "Essentialism: The Disciplined Pursuit of Less."
 
"This book provides readers with useful and easy-to-do ways of applying mindfulness and compassion in key areas of life and work. Importantly, many of the solutions offered are grounded in science and research, as well as author Laurie Cameron's many years of experience in studying, practicing and teaching mindfulness. This is a must-read book for anyone interested in beginning, deepening or sustaining mindfulness in daily life."
—Rich Fernandez, Ph.D., CEO, Search Inside Yourself Leadership Institute
 
"Laurie Cameron has created a gem with The Mindful Day by offering a practical, moment-to-moment guide for increased calm, ease and peace.  This is a book to be referred to many, many times. I suggest owning several copies, one for the bedside table, the kitchen table, and the office conference room table!"
—Jake Tarr, president of the Insight Meditation Community of Washington and managing director of Kinetic Ventures
 
"Laurie Cameron's compassionate determination to bring authentic mindfulness practice to the business world makes this book a treasury of insight for all those searching in earnest for how to live a happy, mindful life in the midst of today's non-stop, stress-saturated workplace. We are all better off for this her generous gift to the world."
—Brother Phap Luu, Plum Village Dharma Teacher in the tradition of Thich Nhat Hanh
 
"Start your day with The Mindful Day. In the many years that I have known Laurie Cameron, she has always been an inspiration to all of those around her. In The Mindful Day, she provides readers with "how to make things happen for you" from morning to evening. And more importantly, to make every day a joyful day."   
—Susan Bulkeley Butler, former Accenture Partner, Office of the CEO; Author of Become the CEO of You, Inc.
(she was also Accenture's first woman partner)
 
"The chapter titles alone could easily become my daily prayer."
—Gordon Hempton, author of The Earth is a Solar-Powered Jukebox