Undocumented: A Worker's Fight (Hardcover)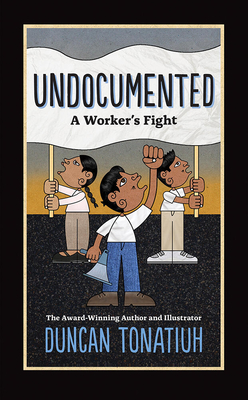 $19.99
In Stock—Click for Locations
About the Author
---
Duncan Tonatiuh was born in Mexico City and grew up in San Miguel de Allende. His books have received many awards over the years. He currently lives in San Miguel with his wife and children but travels to the US often.
Praise For…
---
STARRED REVIEW: "Multiple Pura Belpré Medal and Honor- awarded Tonatiuh (Diego Rivera, 2011) channels his interest in the Mixtec codex format to create a superb modern odyssey, stupendously illustrated in his signature contemporary adaptation of Pre-Columbian art forms, presented on accordion pages in a handsome slip-box."
— Booklist
"Remarkable…The artwork is deliberately evocative of Mesoamerican logography, with figures and perspectives that feel at once bizarre and totally familiar."
— Vulture
"By focusing on the narrative of one immigrant worker, Tonatiuh breaks the mammoth issues of immigration and workers rights into an easy-to-swallow bite, allowing the reader to easily engage with an often intimidating topic. The personal is again political. Highly recommended."
— Kirkus Reviews
"Undocumented... is an all-too-real discussion about fair pay and the hostility U.S. citizens often display toward undocumented immigrants."
— Shelf Awareness
"…a gorgeous, timely, and necessary offering about the daily plight of undocumented workers in the United States."
— Library Journal
"With its explicit political messages, this book is unique in the picture book canon."
— NBC online
"From the beginning, the format of this book shows its uniqueness with the codex form used by Mixteco."
— The News & Observer