Martin Scorsese: A Retrospective (Hardcover)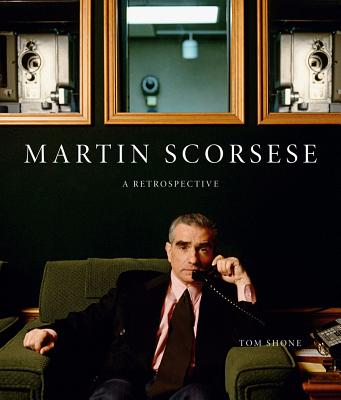 Description
---
Martin Scorsese: A Retrospective is the definitive illustrated biography of one of cinema's most enduring talents.

From Scorsese's debut feature to The Wolf of Wall Street, this new critical monograph charts the director's glittering 50-year career at the helm of filmmaking. Renowned movie critic Tom Shone draws on his in-depth knowledge and distinctive viewpoint to provide essential commentaries on all of Scorsese's twenty-three feature films, including Taxi Driver, Raging Bull, Goodfellas, and The Departed. Shone's text is joined by more than 250 behind-the-scenes stills, photographs, posters, and ephemera.

Movie by movie, this stunning monograph provides the definitive celebration of one of cinema's most enduring talents.
About the Author
---
Tom Shone is the film critic for the Guardian US and the Economist's Intelligent Life magazine. He has written for Slate, the New Yorker, and the Sunday Times. He is the author of Blockbuster, In the Rooms, and Martin Scorsese: A Retrospective (Abrams, 2014). He currently teaches film history and criticism at NYU and lives in New York City.

"Is there anyone now writing about movies better than Tom Shone? I think not."
—John Heilemann, New York Magazine

"Shone is admired on both sides of the Atlantic as a writer with a deep love of the movies and one of the sharpest voices in arts journalism.... Witty and wise, all the way from Spielberg to Linklater"
—Tim de Lisle, Intelligent Life

"The world's finest film critic."
—The Toronto Star
Praise For…
---
"The massive tome from the fine folks at Abrams Books takes the readers through the director's entire career with never-before-seen images, anecdotes, and input from the master himself. It's a must-have book for any cinema lover and should find its way onto plenty of Christmas lists this year."
— Parade.com

"A must-read for cinephiles of all ages."
— The Huffington Post

"A glorious coffee-table delve into the great director's 23 feature films ... page upon page of Shone's typically fluid, effortless prose."
— The Sunday Times

"Extremely covetable ... a must for fans, combining enviable access with memorable insight ... while the archive of stills and behind-the-scenes shots is a gold mine, there's plenty of Shone's prose to savor, too."
— GQ Magazine

"Featuring more than 250 images, including movie stills, archive publicity material and onset photography, this stunning monograph is the next best thing to actually viewing a Scorsese film…. A fitting tribute to one of cinema's most enduring talents."
— Florida Weekly

"Anyone looking for that tall and heavy book on one of the most continuous prolific directors working today need look no further than this."
— Filmwerk

"Shone is too vigorous a critic not to put up a fight. He calls Gangs 'heartbreaking in the way that only missed masterpieces can be: raging, wounded, incomplete, galvanized by sallies of wild invention.' There's lots of jazzy thumbnail writing of this kind, compacted critiques you suspect Shone would merrily expand upon, given more space."
— The Daily Telegraph