Imagine a Place (Imagine a...) (Hardcover)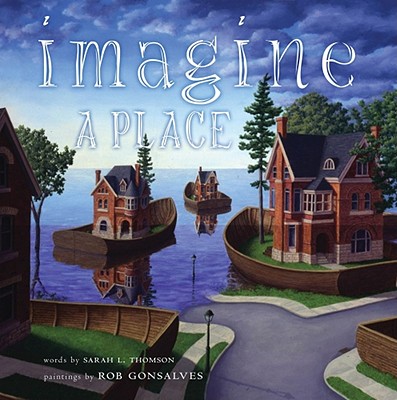 $19.99
Not On Our Shelves—Ships in 1-5 Days
Description
---
If you can imagine a place,
you can go there.

Imagine a place that makes you feel as free as a bird. Imagine a place where getting there is worth whatever it takes. Imagine a place that makes you feel like it's always been your destination. Imagine a place made out of pure imagination.

Imagine a Place is a gorgeous companion to the critically acclaimed Imagine a Night and Imagine a Day, and reminds us that imagination is powerful enough to take us anywhere we want to go. And Rob Gonsalves's exquisitely conceived paintings leave you in awe...of his imagination.
About the Author
---
Sarah L. Thomson's other books include The Dragon's Son, which was named one of the best science fiction, fantasy, and horror books of 2001 by Voice of Youth Advocates; Stars and Stripes; and Imagine a Night. She lives in Maine.

Rob Gonsalves grew up drawing images from his imagination. Before becoming a full-time artist, Mr. Gonsalves worked as an architect. He began exhibiting paintings in Toronto in 1990, and his work is now shown throughout North America and beyond. His picture books are Imagine a Place, Imagine a Night, and Imagine a Day, which was the recipient of the Governor General's Literary award. He currently lives in Ontario, Canada.