The Chosen Wars: How Judaism Became an American Religion (Hardcover)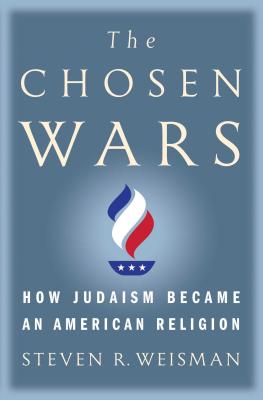 $30.00
Special Order—Subject to Availability
Description
---
"Weisman's meticulously researched and fluently argued book is a compelling story of a glorious past. It is also a guide to the foreseeable future. The chosen wars rage on, but now, at least, we have a manual to help us fight them more mindfully."—The Wall Street Journal

The Chosen Wars is the important story of how Judaism enhanced America and how America inspired Judaism.

Steven R. Weisman tells the dramatic history of how Judaism redefined itself in America in the eighteenth and nineteenth centuries—the personalities that fought each other and shaped its evolution and, crucially, the force of the American dynamic that transformed an ancient religion.

The struggles that produced a redefinition of Judaism illuminate the larger American experience and the efforts by all Americans to reconcile their faith with modern demands. The narrative begins with the arrival of the first Jews in New Amsterdam and plays out over the nineteenth century as a massive immigration takes place at the dawn of the twentieth century.

First there was the practical matter of earning a living. Many immigrants had to work on the Sabbath or traveled as peddlers to places where they could not keep kosher. Doctrine was put aside or adjusted. To take their places as equals, American Jews rejected their identity as a separate nation within America. Judaism became an American religion.

These profound changes did not come without argument. The Chosen Wars tells the stories of the colorful rabbis and activists, including women, who defined American Judaism and whose disputes divided it into the Reform, Conservative, and Orthodox branches that remain today. Isaac Mayer Wise, Mordecai Noah, David Einhorn, Rebecca Gratz, and Isaac Lesser are some of the major figures in this wonderful story.
About the Author
---
Steven R. Weisman, vice president for publications and communications at the Peterson Institute for International Economics (PIIE), previously served as a correspondent, editor, and editorial board member at The New York Times. His book The Great Tax Wars: How the Income Tax Transformed America, received the Sidney Hillman Award in 2003.
Praise For…
---
"American Judaism underwent a radical shift in the 19th century, adapting its rituals and its theology alike for an open, modern society. Weisman offers a thorough and fascinating history of these decades, which gave birth to the liberal branches of Judaism and allowed Jews to feel at home and thrive in America."


— New York Times Book Review (Editors' Choice)

"Weisman's meticulously researched and fluently argued book is a compelling story of a glorious past. It is also a guide to the foreseeable future. The chosen wars rage on, but now, at least, we have a manual to help us fight them more mindfully."
— The Wall Street Journal

Well-documented and compelling . . . Weisman demonstrates that Judaism was able to adapt itself to the New World in multiple ways that, despite the ongoing challenges, continue to thrive."
— The Washington Post

"The rise of Judaism in American is an astonishing, underappreciated saga with remarkable and eccentric personalities. Steve Weisman explains a lot about our country, about the Jewish people and tells a really great story."
— Rabbi David Wolpe, Sinai Temple, author of David: The Divided Heart

"Only rarely does an author succeed in writing a book that reframes how we perceive our own history. The Chosen Wars is one such book, and it could not arrive at a more appropriate time in that history. . . . fascinating and provocative."
— Jewish Journal

"American Jews have shockingly little self-awareness about their place in an incredible saga. Life in the New World transformed their religion, creating distinctive beliefs and ritual. It is a fascinating tale, full of conflict and ingenuity. Steve Weisman has excavated this history with narrative flair and wisdom. The Chosen Wars is a book that will become a fixture on the shelves of the diaspora and beyond."
— Franklin Foer, author of World Without Mind

"Expertly told . . . Anyone interested in American Judaism will be enlightened by this lucid and entertaining history."
— Publishers Weekly, starred review

"A popular, readable account of the outsized personalities and dramatic conflicts that produced a distinctively American Judaism over the course of the Nineteenth Century. The Chosen Wars draws upon recent scholarship to produce a history that is as unforgettable as it is relevant to our times."
— Jonathan D. Sarna, University Professor, Brandeis University and author of American Judaism: A History

"A contextually rich story of Judaism's evolution in early America, containing surprises such as New York Jews' sympathy for the Confederacy, source of cotton for trade and clothing."
— American Jewish World

"The Chosen Wars is filled with light for dark times. It is an important and engaging narrative about the evolution of American Judaism. Gone are the old myths and suspicions, and in their place is a profound meditation on the nature of Jewish identity."
— Amanda Foreman, New York Times bestselling author of A World on Fire

"Beginning with the mid-17th century, the author offers numerous illuminating anecdotes and outsized personalities to explain how and why the first Jews arrived in what became the U.S. more than a century later . . . Religious history that should interest Jews and non-Jews alike."
— Kirkus Reviews

"The Chosen Wars is a uniquely American story about how minority religious communities have grappled with the tension between being, as Weisman puts it, 'a part' of and yet 'apart' from our wider society. It's a book full of life about a living tradition."
— E.J. Dionne Jr, New York Times bestselling author of Why the Right Went Wrong and co-author of One Nation After Trump

"Weisman here gives a solid outline of the history of Jewish divisiveness that anyone can follow, an important beginning to understanding the truth over myth about Judaism in American history."
— New York Journal of Books

"Steve Weisman shares important observations about the American Jewish past and the way it shaped and continues to shape today's Jewish communities. The Chosen Wars offers a framework to view a complex, often contentious but ever proud people struggle with tradition and innovation on a new and captivating shore."
— Erica Brown, author of Jonah: The Reluctant Prophet

"The fascinating story of Jews in America has been told many times but seldom if ever with the narrative power and analytic acuity this fine book displays. Anyone interested in the intricate history of religion in the USA will find this volume endlessly informative."
— Harvey Cox, Hollis Professor of Divinity Emeritus, Harvard University, author THE FUTURE OF FAITH