We're following all official guidelines to keep ourselves healthy on the job, and as a result, shipping may be delayed.
You will receive an email from our web orders team confirming that your order has been processed.
We thank you for your support and your patience at this challenging time.
Insert Groom Here (Unconventional Brides Romance) (Large Print / Hardcover)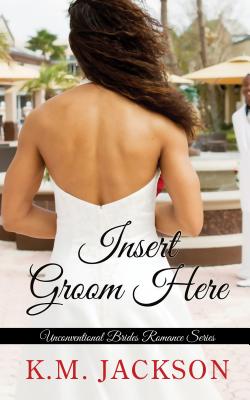 $30.99
Special Order—Subject to Availability
Other Books in Series
Description
---
K.M. Jackson's sharp and sassy storytelling is guaranteed to delight. Farrah Rochon, USA Today bestselling author
Tired white lace, rote promises, same-old ceremonies some brides have no time for that. They'll break the rules, turn tradition into straight-up scandal and improvise as much as it takes to turn their wildest wedding dreams into real love
Eva Ward has won a lavish wedding on the nation's hottest morning show and can't wait to kick off her
happily-ever-after in style. Too bad her fiance backs out on-air and cameraman Aidan Walker makes sure her private meltdown goes viral, down to the last couch-kicking moment. The only way Eva can save face and keep her perfect nuptial plans on track is to star in a new find-a-groom reality segment. But finding Mr. Right in one month means ignoring her handsome new producer none other than Aidan himself and getting their instant, exasperating attraction out of her system
Eva soon finds there's a lot more to Aidan than freewheeling charm. But one glimpse of his caring side can't make up for off-camera politics, Aidan's own secrets or Eva's fear that they re too different to ever trust each other. So it's time for her to flip this script, write twists no one will see coming and risk her heart to get the real thing
About the Author
---
A former fashion designer, K.M. Jackson won a New Jersey Romance Writers' Golden Leaf Award for her novel Bounce. A longtime member of Romance Writers of America, she received the New York Chapter s 2014 Golden Apple Award for Author of the Year. Currently she resides in the suburbs with her husband, twins, and her precocious terrier named Jack who always keeps her on her toes. More about her work can be found on her website at www.kmjackson.com, or follow her on Twitter @kwanawrites."