Rise Up Women!: The Remarkable Lives of the Suffragettes (Hardcover)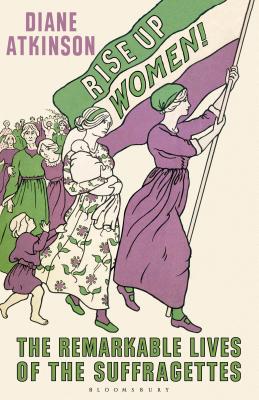 $40.00
Not On Our Shelves—Ships in 1-5 Days
Description
---
Almost one hundred years ago, British women led a hard-fought campaign to gain the right to vote--and this is their story.
Britain's women's suffrage campaign began in the nineteenth century, but the twentieth century ushered in a more militant campaign. On June 30, 1908, two schoolteachers broke windows at 10 Downing Street to protest being turned away from Parliament, and when Parliament dissolved without passing the Conciliation Bill, the Women's Social and Political Union (W.S.P.U.) led the Black Friday riot on November 18, 1910. Two years later, Ellen Pitfield set fire to a waste basket at the General Post Office and was sentenced to six months for arson. By 1913, suffragettes were winning public sympathy by citing harrowing stories of imprisoned women on hunger strikes being drugged with bromide and force fed.
During the First World War women had done many of the jobs previously done by men, and their vital work was rewarded politically by the Representation of the People Act, giving the vote to all women twenty-one years or older. It was passed in the House of Lords on June 19, 1917, and became law on February 6, 1918. Perhaps the ultimate victory was a law passed on November 21, 1918, that allowed women to stand as Members of Parliament in the next general election.
About the Author
---
Diane Atkinson has a Ph.D. from the University of London and has lectured on the suffragettes at conferences and literary festivals. She also has been a lecturer and curator at the Museum of London, specializing in women's history. Atkinson is the author or coauthor of several illustrated books and biographies of women, including Elsie and Mairi Go to War and The Criminal Conversation of Mrs. Norton. She lives in London, England.
Praise For…
---
"Patiently, skilfully and empathetically, Diane Atkinson gives us the fullest, most insightful history yet of the suffragette movement and the courageous women who drove it forward to eventual fruition." - David Kynaston for RISE UP WOMEN!
"[An] immensely readable suffragette epic, with its full cast of the charismatic stars, character actors and the vast chorus who bravely and ingeniously dedicated--and risked--their lives to achieve the first modern, militant struggle in twentieth-century political theatre..." - Rachel Holmes, author of ELEANOR MARX: A LIFE, for RISE UP WOMEN!
"It's a lost, antique, opaque England that Diane Atkinson evokes here—fascinating." - The Washington Post (for ELSIE AND MAIRI)
"Fully celebrating the exploits of two intensely linked young women who benefited hundreds of lives." - Publishers Weekly (for ELSIE AND MAIRI)
"Well researched…recommended for women's studies scholars, legal scholars and academics." - Library Journal (for THE CRIMINAL CONVERSATION OF MRS. NORTON)
"An impressive biography." - Booklist (for THE CRIMINAL CONVERSATION OF MRS. NORTON)