We're following all official guidelines to keep ourselves healthy on the job, and as a result, shipping may be delayed.
You will receive an email from our web orders team confirming that your order has been processed.
We thank you for your support and your patience at this challenging time.
Sixty Million Frenchmen Can't Be Wrong: Why We Love France, But Not the French (Paperback)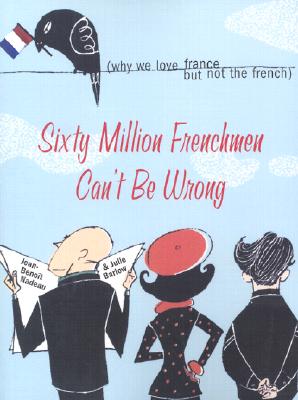 $21.99
Not On Our Shelves—Ships in 1-5 Days
Description
---
The French...
-Smoke, drink and eat more fat than anyone in the world, yet live longer and have fewer heart problems than Americans
-Work 35-hour weeks, and take seven weeks of paid holidays per year, but are still the world's fourth-biggest economic power
So what makes the French so different?
Sixty Million Frenchmen Can't Be Wrong is a journey into the French heart, mind and soul. Decrypting French ideas about land, privacy and language, Nadeau and Barlow weave together the threads of French society--from centralization and the Napoleonic Code to elite education and even street protests--giving us, for the first time, a complete picture of the French.
" A] readable and insightful piece of work." --Montreal Mirror
"In an era of irrational reactions to all things French, here is an eminently rational answer to the question, 'Why are the French like that?'" --Library Journal
"A must-read." --Edmonton Journal
About the Author
---
Canadian journalists Jean-Benoit Nadeau an Julie Barlow have spent the last decade working extensively in both their country's official languages.

Born in Sherbrooke, Quebec, in 1964, Jean-Benoit Nadeau holds a bachelor's degree in political science and history from McGill University. A journalist since 1987, he has written for L'actualite, Saturday Night Magazine, National Post Business, and Quebec Science. The holder of seventeen journalism awards, he was granted a two-year fellowship in 1998 by the New Hampshire-based Institute for Current World Affairs to study why the French resist globalization. In 2001, he published a humorous travelogue, Les francais aussi ont un accent (Payon, Paris). He has also traveled in Mexico, the UK, New Zealand, and Algeria.

Born in Ancaster, Ontario, in 1968, Julie Barlow holds an honour's degree in political science from McGill University and a master's in English Literature from Concordia University. Over the last decade, she has written for Saturday NIght Magazine, Report on Business Magazine, L'actualite, and other Canadian magazines. In 1998, she worked as Editor-in-Chief of English-language projects at Montreal-based publisher Ma Carriere. In 2003, she published Same Words, Different Language (Piatkus, London) with international gender expert Barbara Annis. She has traveled extensively throughout Europe, North Africa, Israel, Turkey, the Caucasus, Mexico, the UK, and New Zealand.

The couple is now based in Montreal, where they are living happily in French and English while producing their next book, The Story of French.