Saving Henry: A Mother's Journey (Hardcover)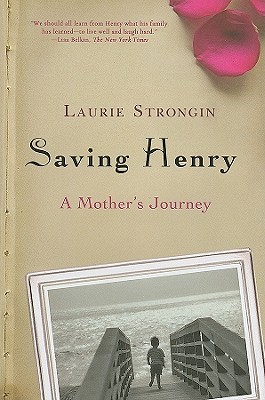 $22.99
Special Order—Subject to Availability
Description
---
"A heartbreaking story, exquisitely told . . . Laurie Strongin's integrity, humanity, and wisdom are an inspiration to the rest of us."
--David Shenk, author of The ForgettingSaving Henry is the eye-opening and inspiring story of how far a family will go to save the life of their child. Laurie Strongin's son Henry was born with a heart condition that was operable, but which proved to be a precursor for a rare, almost-always fatal illness: Fanconi anemia. Deciding to pursue every avenue that might provide a cure, Laurie and her husband signed on for a brand new procedure that combined in vitro fertilization with genetic testing to produce a baby without the disease, who could be a stem cell donor for Henry. As Laurie puts it: "I believe in love and science, nothing more and nothing less." Laurie and her husband endured nine failed courses of the procedure before giving up. But Saving Henry is also about hope. It is the story of Henry, the feisty little boy who loved Batman, Cal Ripken Jr., and root beer-flavored anesthesia, and who captivated everyone with his spunk and positive attitude. When the nurses came to take blood samples, Henry brandished his toy sword and said, "Bring it on " When he lost his hair after a chemo treatment, he declared, "Hey, I look like Michael Jordan " Laurie became a fervent advocate for stem cell research, working with policymakers and the scientific community to bring attention to Henry's case and to the groundbreaking research that could save many lives. Henry's courage and bravery inspired nurses, doctors, friends, and family. Saving Henry is the story of one family's search for a cure, and the long-lasting scientific impact their amazing little boy has had.
About the Author
---
Laurie Strongin is the Founder and Executive Director of Hope for Henry Foundation, which brings smiles and laughter to seriously ill children. Prior to that, Laurie was Senior Director of Wealth Creation at the Fannie Mae Foundation. Laurie also acts as a family advocate in the ongoing national discussion about ethics and genetics. She has participated as a panelist and guest lecturer in a range of forums hosted by the Johns Hopkins Genetics and Public Policy Center on preimplantation genetic diagnosis. In 2006, Laurie joined Nancy Pelosi to urge the Senate to pass the Stem Cell Research Enhancement Act. That summer, Laurie published an Op-Ed in the Washington Post. She and her family were featured on Nightline, and in a New York Times piece, as well. Laurie is a regular panelist on Clear Channel's Sunday radio program, "Women Talk," broadcast in the Washington, D.C. area on WMZQ, WASH-FM, WBIG and DC101. She lives in Washington, D.C.
Praise For…
---
"Saving Henry is a marvelously-told tale of love triumphant. Parents often say they would do anything for their children. This is the story of a couple that actually did. Laurie Strongin, a woman of true gifts, will break your heart, and fill you with joy. This is an astonishingly good book by a mother who understands that in the battle between love and death, it is love that always wins."—Jeffrey Goldberg, National Correspondent, The Atlantic

"Any mother and any father will immediately understand why Laurie Strongin did what she did. As a doctor I know that all the science being developed, all the technology being perfected, all the studies in the medical journals, in the end, are about people and families, like Strongin's family.
Strongin has a gift for telling a complex medical story as an unfolding family narrative a family that in so many ways is my family, your family, anybody's family. Any of us in today's world could find ourselves facing the difficult and challenging set of decisions this family had to make. Strongin's story is a truthful and honest roadmap we may want to follow."—Dr. Ranit Mishori, Contributing Health Editor, Parade Magazine; Professor, Georgetown University School of Medicine

"There's a reason Saving Henry rings with so much truth: the author, Laurie Strongin, lived every word of it. It's her story, and her sons' and her husband's a vivid, beautifully rendered and almost painfully honest account of a journey none of them wanted to take, but could not avoid, thanks to a bad throw of the genetic dice. When their first boy, Henry, is born with a rare and always fatal disease, Strongin, who till that point had lived a rather charmed life, sets out to save her son. Trusting in science, holding to hope, and relying on love, she and her family find themselves at the very cutting edge of medical technology uncharted territory where the legal and ethical rules were still largely unwritten. She, her husband Allen, and especially little Henry, become pioneers in a landscape of complex technological procedures that offer hope but also bring pain physical pain, and, quite often, the pain of disappointment. And yet they keep trying.
The driving force of Saving Henry is this tale of a family that will not quit, that cannot see a little boy die not a little boy so full of the life force that even the doctors trying to save him hang photos of Henry in their labs and in their homes as a reminder of what life is really all about. Strongin sketches Henry with a mother's eye and with a mother's love. Because that is what this true story is truly about--a love that does not die when, even when, at the end, Henry dies--all efforts to save him having been tried and failed. For it's the "having tried" that gets the family through that final poignant day. It's the "having tried" that made Henry's case one doctors would later study to understand better how to improve their procedures to help other children. And it's the "having tried," finally, that compelled Strongin to write this book, so that others will remember that there are some struggles that are never worth giving up."—John Donvan, ABC News Correspondent

"How do you make beauty and meaning out of unimaginable sorrow? Saving Henry is a stirring account of struggle, love, and loss that manages to be both honest and inspiring."—Rabbi David Wolpe, author, Making Loss Matter and Why Faith Matters

"I first met Laurie Strongin when I wrote about her remarkable son Henry for the New York Times. But you can't meet the Strongin-Goldberg family and not come to see them as dear friends. You can't read their story without coming to love them, either. It's an important and newsworthy story, yes, a testament to how the debate over medical technology and stem cell research is not just an academic argument, but also a searingly personal one. Mostly, though, it's an intimate love story. We should all learn from Henry what his family has learned--to live well and laugh hard."—Lisa Belkin, writer, New York Times