The Agenda: What Every Business Must Do to Dominate the Decade (Paperback)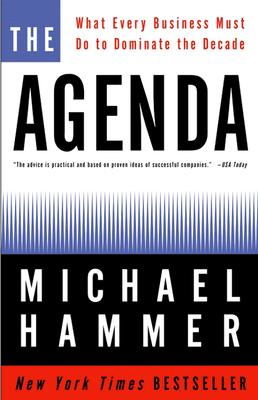 $15.00
Special Order—Subject to Availability
Description
---
New rules for the new game:
the ideas that every business needs to win in the customer economy

In The Agenda, Michael Hammer shows companies how to prosper in today's world of slow growth, fierce competition, and enormously powerful customers. The winners in this extraordinarily difficult environment--companies like IBM, Duke Power, Progressive Insurance, and GE--succeed through superior operations. Their costs are lower and their quality higher than their competitors'; they get new products to market faster and they provide better customer service. How do they do it? Through near-fanatical attention to the basics of business, and by managing these basics in new and creative ways. The Agenda teaches the ideas and techniques that any company--large or small, service firm or manufacturer--can use to out-execute and out-innovate its competitors. Businesses that follow these principles will grow by taking market share away from those that do not. While others decline, your company can thrive. The Agenda will show you how.
About the Author
---
DR. MICHAEL HAMMER is one of the world's foremost business thinkers. He is the originator of both reengineering and the process enterprise, ideas that have transformed the modern business world. Through his teaching and research, he works with the management teams of leading companies to bring about fundamental change in their organizations. Time magazine included him in its first list of America's twenty-five most influential individuals. For more information about Dr. Michael Hammer and Hammer and Company, visit www.hammerandco.com. From the Hardcover edition.
Praise For…
---
"A recipe for winning in today's fast-moving, hypercompetitive world."
-- Dave Pottruck, president and co-CEO, The Charles Schwab Corporation

"I've long admired Michael Hammer's insights into what's wrong with businesses and his prescription for improvement. Dr. Hammer is absolutely on the mark about how growth has to be created, not just harvested, and that makes management among the most difficult, risky, and precarious of human endeavors. Today with dot-coms turning to dot-bombs and even long-established businesses being upset by upstarts, The Agenda provides a series of valuable lessons for anyone seeking success in the consumer-dominated economy. Read this book -- and hope your competitors do not."
-- Joseph Nacchio, chairman and CEO, Qwest Communications

"Michael Hammer has once again forged ahead of the pack with a practical, specific, easily understood, and prophetic view of what's ahead. As world business competition continues to intensify, CEOS will do well to listen to Hammer."
-- Larry Bossidy, chairman and CEO of Honeywell International

"Like Dr. Hammer's previous books, The Agenda articulates a new and important business sea change, the emergence of a customer-centric economy. His practical road map–for those who are willing to rise to the challenge–is a wake-up call rallying business leaders to start thinking like customers. From the boardroom to middle management, this is a must-read for every company executive. Your company's future depends on it." -- Mackey J. McDonald, CEO, chairman, and president, VF Corporation