We're following all official guidelines to keep ourselves healthy on the job, and as a result, shipping may be delayed.
You will receive an email from our web orders team confirming that your order has been processed.
We thank you for your support and your patience at this challenging time.
The Invisible Bridge (Vintage Contemporaries) (Paperback)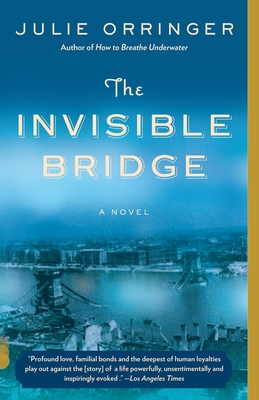 May 2010 Indie Next List
---
"The Invisible Bridge will make you forget every other novel you've ever read about World War II.Through the lives of two Hungarian Jewish brothers whose fates span the vibrant student cafes of 1930s Paris to the backbreaking labor camps on the Eastern Front, Orringer creates an entire universe, breathtaking in its breadth and extraordinary in its intimacy."
— Elizabeth Sher, Politics & Prose Books &, Washington, DC
Description
---
Paris, 1937. Andras Lévi, a Hungarian-Jewish architecture student, arrives from Budapest with a scholarship, a single suitcase, and a mysterious letter he promised to deliver. But when he falls into a complicated relationship with the letter's recipient, he becomes privy to a secret that will alter the course of his—and his family's—history. From the small Hungarian town of Konyár to the grand opera houses of Budapest and Paris, from the despair of Carpathian winter to an unimaginable life in labor camps, The Invisible Bridge tells the story of a family shattered and remade in history's darkest hour.
About the Author
---
Julie Orringer is the author of the award-winning short-story collection How to Breathe Underwater, which was a New York Times Notable Book. She is the winner of The Paris Review's Discovery Prize and the recipient of fellowships from the National Endowment for the Arts, Stanford University, and the Dorothy and Lewis B. Cullman Center for Scholars and Writers at the New York Public Library. She lives in Brooklyn, where she is researching a new novel.
Praise For…
---
"Profound love, familial bonds and the deepest of human loyalties play out against the backdrop of unimaginable cruelty. . . . A stunning first novel." —Los Angeles Times 

"Truly breathtaking. . . . A sensual feast." —San Francisco Chronicle 

"The Invisible Bridge is a tale of war-torn lovers, family and survival of the luckiest rather than the fittest. . . . Wonderfully evoked." —Chicago Tribune 

"Orringer's writing is glorious." —The Oregonian 

"What begins as a jewel-box romance soon breaks open into a harrowing saga of war. Orringer . . .  conveys a piercing sense of what it means to be fated by one's blood." —Vogue
 
"At the risk of oversimplifying things, this novel shows how Michael Chabon would write if he grew up a ballet-dancing girl instead of a comic-book-loving boy." —The Plain Dealer
 
"[Orringer] make[s] us care so deeply about the people of her all-too-real fictional world. For the time it takes to read this fine novel, and for a long time afterward, it becomes our world too." —The New York Times Book Review

 "One of the best books of the year." —Junot Diaz
 
"An unforgettable, important work…. Extraordinary." —Miami Herald
 
"Heartbreaking—and inspiring." —Chicago Sun-Times
 
"Brilliant. . . . Remarkably accomplished." —The Washington Post Book World
 
"Dazzling. . . . A story simultaneously epic and intimate." —Entertainment Weekly
 
"Beautiful, breathtaking, and vital." —NPR, "Books We Like"

"To bring an entire lost world—its sights, its smells, its heartaches, raptures and terrors—to vivid life between the covers of a novel is an accomplishment; to invest that world, and everyone who inhabits it, with a soul, as Julie Orringer does in The Invisible Bridge, takes something more like genius." —Michael Chabon, author of The Amazing Adventures of Kavalier & Clay  
 
"The word 'epic' seems inadequate to describe Julie Orringer's phenomenal first novel, The Invisible Bridge. You don't so much read it as live it. . . . Profoundly moving. . . . This is one that cries for you to linger over it, page by enthralling page." —Financial Times
 
"Orringer avoids pathos and has a gift for re-creating distant times and places: a Paris suffused with the scent of paprikas and the sounds of American jazz, the camraderies and cruelties of the work camps. The ticking clock of history keeps it urgent and moving forward, and the result is, against all odds, a Holocaust page-turner." —New York magazine
 
"Powerful. . . . So mesmerizing that in spite of the book's heft, its ending comes too soon." —Miami Herald
 
"The Invisible Bridge is dense with a master's intelligence…. The stuff of classic novels." —Kansas City Star
 
"With The Invisible Bridge, Julie Orringer has built a large novel in the grand old style, and out of that rubble made something new and beautiful." —The Onion's A. V. Club
 
"Engrossing. . . . The Invisible Bridge follows Hungarian Architecture student Andras Lévi and his older lover, Klara Morgenstern, through some of the most fraught and consequential years of 20th-century history, but Orringer never seems out of her depth." —Time Out New York
 
"Orringer's great achievement here is to give us the Holocaust anew, to remind us of the scale of what was lost and to cherish what survived." —Seattle Post-Intelligencer
 
"A Tolstoy-esque novel of the Holocaust, one that tracks the passage of quotidian life and the flutter of the human heart against the implacable roll of history. . . . The love story that unfolds in Orringer's pages is as romantic as Doctor Zhivago and the seamless, edifying integration of truckloads of historical and topical research." —Newsday  
 
"As rich in historical detail as it is human in its cast of sympathetic characters. . . . Speaks to the power of love and the steadfastness of the heart." —O, The Oprah Magazine 
 
"Andras's Europe is fully realized: its cornices and cobblestones, its frigid winters and chance meetings in cafés." —Bookforum
 
"A work of impressive scope and powerful depth." —BookPage
 
"In a field as crowded with artistic representations as the Holocaust, it's easy to assume that there is nothing new to say. Julie Orringer reminds us that there always is, so long as there are individual stories to tell. . . . Brilliant. . . . As in her modern stories, here Orringer covers the darkest matters with a tender authority while imbuing her characters with the subtle, endless dimensions of love and suffering.. . . Gripping, fresh, and worth remembering . . . this novel will endure." —Forward magazine
 
"A fine first novel. . . . Has much to say about war, and how it affects individuals indiscriminately, changing their dreams." —Dallas Morning News
 
"The sheer joy of storytelling fills each moment of Orringer's novel. Like Tolstoy and Eliot's work, it transports us completely into its world—that of young Andras, his friends, family and loves—and a landscape of war and redemption. Thrilling, tender, and terrifying; a glorious reminder of how books can change our lives. It is the novel of the year." —Andrew Sean Greer, author of The Story of A Marriage