Lone Patriot: The Short Career of an American Militiaman (Paperback)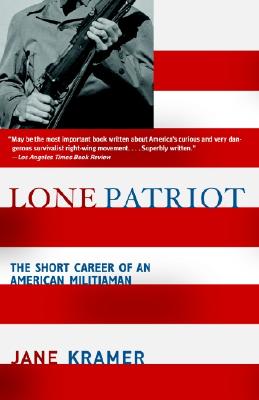 $14.00
Special Order—Subject to Availability
Description
---
In the mid 1990s self-styled Patriot John Pitner gathered around him a ragtag band of discontents, all eager to avenge themselves against America's enemies, both foreign and domestic. Fervently believing that a New World Order threatened their liberty and way of life, Pitner and his recruits prepared for confrontation until an FBI sting led to their arrests on conspiracy charges in 1997.
In Lone Patriot, acclaimed New Yorker correspondent Jane Kramer delivers an intimate look into the life and mind of a militia leader and his followers, exploring the volatile mix of personalities and politics that shapes their extreme worldview. Through a series of exclusive interviews with them both before and after, Kramer paints an incredible portrait of a rural America that is rarely glimpsed but strikingly relevant.
About the Author
---
Jane Kramer has written The New Yorker s Letter from Europe for more than twenty years. She is the author of eight previous books, among them The Last Cowboy, Europeans, and The Politics of Memory, and has been the recipient of many awards, including a National Book Award. With Europeans, she became the first woman, and the first American, to win the Prix Europeen de l Essai Charles Veillon, Europe s most prestigious award for nonfiction. She divides her time between Europe and New York."
Praise For…
---
"May be the most important book written about America's curious and very dangerous survivalist rightwing movement. . . . Superbly written." —Los Angeles Times

"Well-drawn, superbly reported . . . Kramer does a fine job of portraying a group of everyday lost souls looking for something larger to blame." —The New York Times Book Review

"[An] expertly reported study of an unsuccessful but potentially dangerous band of domestic terrorists." —USA Today

"Kramer has . . . a powerful capacity to bring alive people and feelings. . . . Lovely writing, and the reporting can't be faulted." —The Baltimore Sun

"Kramer's insights into the movement shed unexpected light on an eerie underworld frequented by men whose view of reality has more in common with violent video games than genuine political principles." —Austin American-Statesman

"In Lone Patriot, Kramer has achieved something nearly miraculous. Through meticulous reporting and incisive, often humorous writing, she creates a warts-and-all yet somehow sympathetic portrait." —The Hartford Courant

"[Kramer's] writing is graceful and fluid, finding humor as easily as heartbreak." —The Oregonian

"By turns hilarious and harrowing, Lone Patriot offers one of the most richly textured and deeply affecting narratives of Jane Kramer's remarkable career."—Lawrence Wechsler

"Elegantly spun, thoroughly researched. . . . A lively, important, and splendid investigation of one man and one more paranoid vision." —Providence Journal-Bulletin

"With the breezy style of a good novelist and the seasoned eye of an historian, Jane Kramer has written a remarkable book." —Arizona Daily Star

"Brilliant. Kramer is a poet of discontent and delusion, and in Whatcom County she has found a great subject."—Ward Just

"Kramer has gone bravely into the belly of a beast which is alive and well in America and which most of us prefer not to acknowledge. We avoid looking where she takes us in Lone Patriot at our peril."—Bob Kerrey