Saboteurs: The Nazi Raid on America (Paperback)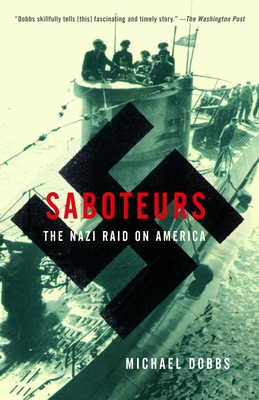 $17.00
Not On Our Shelves—Ships in 1-5 Days
Description
---

In 1942, Hitler's Nazi regime trained eight operatives for a mission to infiltrate America and do devastating damage to its infrastructure. It was a plot that proved historically remarkable for two reasons: the surprising extent of its success and the astounding nature of its failure. Soon after two U-Boats packed with explosives arrived on America's shores-one on Long Island, one in Florida-it became clear that the incompetence of the eight saboteurs was matched only by that of American authorities. In fact, had one of the saboteurs not tipped them off, the FBI might never have caught the plot's perpetrators-though a dozen witnesses saw a submarine moored on Long Island.
As told by Michael Dobbs, the story of the botched mission and a subsequent trial by military tribunal, resulting in the swift execution of six saboteurs, offers great insight into the tenor of the country--and the state of American intelligence--during World War II and becomes what is perhaps a cautionary tale for our times.
About the Author
---
Michael Dobbs was born in Belfast, Northern Ireland, and educated at the University of York, with fellowships at Princeton and Harvard. He is a reporter for the Washington Post, where he spent much of his career as a foreign correspondent covering the collapse of communism. His Down with Big Brother: The Fall of the Soviet Empire was a runner-up for the 1997 PEN award for nonfiction. Mr. Dobbs lives in Bethesda, Maryland.
Praise For…
---
"Dobbs skillfully tells this fascinating and timely story." --The Washington Post

"One of the greatest stories of our time. Michael Dobbs' superb research and exceptional writing add to the drama." --Providence Journal

"Hair-raising. . . . Intricately crafted. . . . A first-rate thriller . . . that is much more exciting for being true, Saboteurs is well worth the price of admission and a sight better than many books about the war." --Winston-Salem Journal

"Dobbs seasons his story with just the right a mount of wryness, letting the farce play out and keeping the details tidy. . . . An entertaining and useful book."--San Jose Mercury News

"Saboteurs is a riveting detective story within an engrossing war story. Meticulously researched and elegantly written, this book is that wonderfully rare thing: a first-rate work of history that is impossible to put down." --Rick Atkinson, author of An Army at Dawn

"Their story has been told before, but never so fascinatingly as by Dobbs." --Chicago Sun-Times

"Revealing. . . . Dobbs delves, incisively, into the mindset of the different participants, from the saboteurs, with their conflicting back stories, agendas and loyalties, to midlevel FBI operatives, to the legal minds summoned to work the cases. . . . Dobbs fully evokes the relentless pace familiar to readers of traditional thrillers." --The Houston Chronicle

"Fascinating. . . . Must-reading for true crime and World War II enthusiasts. Saboteurs is a compelling story that is meticulously researched and highly recommended." --Tucson Citizen

"Dobbs expertly deploys the wealth of detail he has unearthed to bring this crew to life. . . . [He] has a knack for historical detective work. . . . Dobbs is the first to tell the full story of a riveting episode that casts some interesting shadows on our current moment." --Commentary Magazine