The Methuen Drama Book of Trans Plays: Sagittarius Ponderosa; The Betterment Society; how to clean your room; She He Me; The Devils Between Us; Doctor (Hardcover)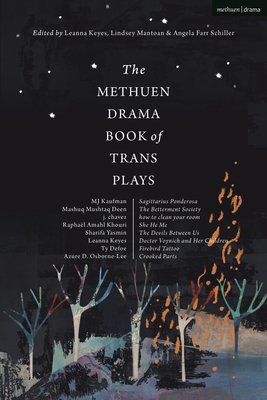 $100.00
Not On Our Shelves—Ships in 1-5 Days
Description
---
The Methuen Drama Book of Trans Plays for the Stage is the first play anthology to offer eight new plays by trans playwrights featuring trans characters.

This edited collection establishes a canon of contemporary American trans theatre which represents a variety of performance modes and genres. From groundbreaking new work from across America's stages to unpublished work by new voices, these plays address themes such as gender identity and expression to racial and religious attitudes toward love and sex.

Edited by Lindsey Mantoan, Angela Farr Schiller and Leanna Keyes, the plays selected explicitly call for trans characters as central protagonists in order to promote opportunities for trans performers, making this an original and necessary publication for both practical use and academic study.

Sagittarius Ponderosa by MJ Kaufman
Archer's not out to his family but when his father falls ill he has to move back to his childhood home in central Oregon. At night under the oldest Ponderosa Pine, he meets a stranger who knows the history of the forests and the sadness of losing endangered things. As Archer accepts big changes in his family, he discovers the power of names and the histories they make and mask. Sagittarius Ponderosais a play about changing names, love potions, and tilling up the soil to make room for new growth.

The Betterment Societyby Mashuq Mushtaq Deen
Three women on a godforsaken mountain wrestle with the elements, with each other, and with a world that does not value their way of life. As their resources dwindle, Gertie, Lynette, and Doreen try to redefine what it means to be civilized-a mission that forces them to confront what they value and what they're willing to sacrifice.

how to clean your room by j. chavez
Spencer begins to clean their room and reflect on their relationships with the people around them. Who can and can't we control in our lives, does caring mean anything beyond words, and does infatuation go both ways? A play in two cycles with anxiety, depression, and puppets.
About the Author
---
Angela Farr Schiller (she/her) is the Director of Arts Education at the two time Southeastern Emmy Award winning ArtsBridge Foundation for the Cobb Energy Performing Arts Centre, in Atlanta, GA. She researches the intersections between race and performance. Formerly serving as an Assistant Professor, the Resident Dramaturg, and the Coordinator of Undergraduate Research for the Department of Theatre & Performance Studies at Kennesaw State University. Angela also works as a Dramaturg-In-Residence with Atlanta-based Working Title Playwrights (WTP), the leading new play development organization in the Southeast, with a focus on new play development. https: //www.angelaschiller.com Leanna Keyes (she/her) is a multi-hyphenate theater artist with a primary focus on queer and trans people, aiming to authentically portray the full complexities of queer life (past, present, and future). She was a playwright in residence at Crosstown Arts in Memphis and has been commissioned by Valiant Theatre in Chicago. Her plays have been performed and studied at universities around the United States, including at Carnegie Mellon in the curriculum of "American Women Playwrights of the 20th and 21st Centuries." Get in touch: leannakeyes.com Lindsey Mantoan (she/her) is Assistant Professor of Theatre and Resident Dramaturg at Linfield College. She researches contemporary US character, both on the national and individual level. She is the author of War as Performance: Conflict in Iraq and Political Theatricality (Palgrave 2018) and co-editor with Sara Brady of Vying for the Iron Throne: Essays on Power, Gender, Death, and Performance in HBO's Game of Thrones (McFarland 2018) and Performance in a Militarized Culture (Routledge 2017). In 2019, she won Linfield's Allen and Pat Kelley Faculty Scholar Award, and in 2020, she won the Mid-America Theatre Conference's Robert A. Shanke Award for Theatre Research. She is an occasional contributor to CNN.com.