Dog on a Frog? (Hardcover)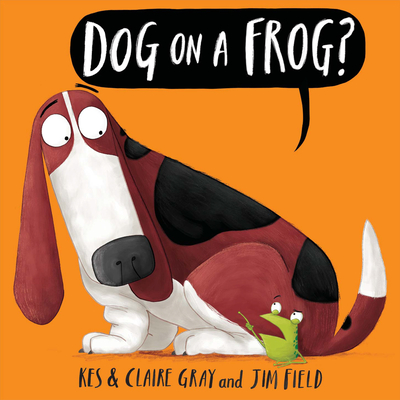 $17.99

Not On Our Shelves—Ships in 1-5 Days
Description
---
Frog is turning the rules upside-down in this riotous, rhyming sequel to Frog on a Log?!"You know the rules," said cat. "Cats sit on mats, frogs sit on logs, and dogs sit on FROGS!""Well, I'm changing the rules," said the frog.In this hilarious sequel to Frog on a Log?, frog decides that he does not want to sit on a log, and he definitely does not want a dog to sit on a frog! So he changes the rules. Now, dogs sit on logs, and cats sit on gnats! But what will frog decide to sit on now? Chock-full of absurd animal rhyme pairings, Dog on a Frog? shows young readers that every animal has many special places to sit. Reminiscent of Dr. Seuss's Beginner Books, this sequel is a fun, educational read-aloud story that helps build reading skills!
About the Author
---
Jim Field is an award-winning illustrator, character designer, and animation director. He has worked on a wide variety of projects, from music videos and title sequences to advertising and books.
His first picture book, Cats Ahoy!, won the Booktrust Roald Dahl Funny Prize and was nominated for the Kate Greenaway award. Since then he has illustrated a string of bestselling, multi-award-winning children's books, including Frog on a Log? and The Lion Inside, as well as young fiction series Rabbit & Bear, middle-grade novels by David Baddiel, and his debut author-illustrator picture book Monsieur Roscoe On Vacation, a bilingual book that introduces first French words. He grew up in Farnborough, UK, worked in London, and now lives in Paris with his wife and young daughter.
Praise For…
---
Praise for Dog on a Frog?:* "The fun of matching a nonsensical rhyme for each character will have kids shrieking with laughter as each new illustration is viewed. And new readers will swiftly acclimate to the repetitive pattern and smart vocabulary. A triumphant sequel." -- Kirkus Reviews, STARRED REVIEW* "The Grays and Field ramp this all up into an excellent comic performance piece; the increasing pace of the ever-tighter rhyming examples is punctuated with hilarious back and forth between the frog and his dog and cat audience . . . and culminates in a delectable tongue-twisting list. Listeners will giggle over the silliness, choose their favorite rhymes to join in with on repetition, and consider turning this into an ongoing game." -- The Bulletin of the Center for Children's Books, STARRED REVIEW"A bossy amphibian persists in trying to overturn established picture-book precedent in the vivid and goofy pages of 'Dog on a Frog?' by the husband-and-wife team of Kes and Claire Gray, with droll illustrations by Jim Field. -- The Wall Street Journal"This standout read-aloud choice tickles the tongue and the funny bone. A fun read for storytime." -- School Library JournalPraise for Frog on a Log?:* "Storytime will never be the same. Impossible to resist." -- Kirkus Reviews, STARRED REVIEW* "The clever and skillful artwork is highlighted by the pure, bright background colors, making this an eyecatcher for groups. Expect lots of laughter -- especially at the twisty ending -- and some creative additions." -- Booklist, STARRED REVIEW

Praise for Dog on a Frog?:* "The fun of matching a nonsensical rhyme for each character will have kids shrieking with laughter as each new illustration is viewed. And new readers will swiftly acclimate to the repetitive pattern and smart vocabulary. A triumphant sequel." -- Kirkus Reviews, STARRED REVIEW* "The Grays and Field ramp this all up into an excellent comic performance piece; the increasing pace of the ever-tighter rhyming examples is punctuated with hilarious back and forth between the frog and his dog and cat audience . . . and culminates in a delectable tongue-twisting list. Listeners will giggle over the silliness, choose their favorite rhymes to join in with on repetition, and consider turning this into an ongoing game." -- The Bulletin of the Center for Children's Books, STARRED REVIEW"A bossy amphibian persists in trying to overturn established picture-book precedent in the vivid and goofy pages of 'Dog on a Frog?' by the husband-and-wife team of Kes and Claire Gray, with droll illustrations by Jim Field. -- The Wall Street Journal"This standout read-aloud choice tickles the tongue and the funny bone. A fun read for storytime." -- School Library JournalPraise for Frog on a Log?:* "Storytime will never be the same. Impossible to resist." -- Kirkus Reviews, STARRED REVIEW* "The clever and skillful artwork is highlighted by the pure, bright background colors, making this an eyecatcher for groups. Expect lots of laughter -- especially at the twisty ending -- and some creative additions." -- Booklist, STARRED REVIEW