How Do Dinosaurs Choose Their Pets? (How Do Dinosaurs...?) (Hardcover)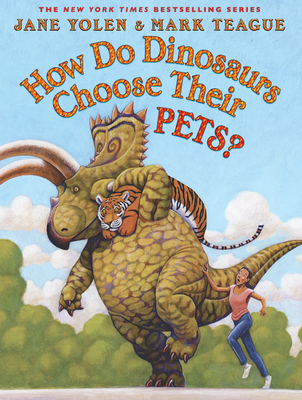 $16.99

Not On Our Shelves—Ships in 1-5 Days
Description
---
Come along on a playful romp as dinosaurs choose outrageous pets, shocking their parents in this fantastically comic new addition to Yolen and Teague's bestselling, award-winning series."Can I keep it? It's so cute!" Brimming with laugh-aloud humor, enormous dinosaur children surprise their parents by bringing home a wild menagerie of highly unusual pets! What would happen if your child walked in the door with a pet tiger? Or an elephant, boa constrictor, zebra, or kangaroo? Would you smile?Perfect for every child who has ever loved or yearned for a pet, this new uproarious book delights readers of all ages as they peek into the mischievous world of Jane Yolen and Mark Teague's bestselling dinosaur series. In the end, children and dinosaurs both learn which animals make the most practical pets, and the best places to find them-- including shelters and pet stores.Wonderfully silly, here is the perfect book for little dinosaurs who may soon have a furry, feathery, or scaly new friend in the house. If you were as big as the dinosaurs in this book, what pet would be your first choice?
About the Author
---
Mark Teague is the internationally bestselling illustrator (and author) of more than 50 books for children. His numerous awards and honors include the Book Sense Book of the Year Award and the Christopher Medal. He has illustrated 12 full-size books and 11 board books in the widely successful How Do Dinosaurs...? series. He is the author of the popular Dear Mrs. LaRue, Firehouse!, and Jack and the Beanstalk and the French Fries. He lives in New York State.
Jane Yolen is the beloved author of more than 365 books for children and adults, including award-winning picture books, fiction, nonfiction, and poetry. In addition to two Nebula Awards and a National Book Award nomination, she has received a Golden Kite from SCBWI, three Mythopoeic Fantasy Awards, and the California Young Reader Medal. Yolen's How Do Dinosaurs Say Good Night? was an ALA Notable Book and a Christopher Medal winner. The book has gone on to become a widely popular bestselling series with over 15 million copies in print. She lives in Western Massachusetts.
Praise For…
---
Praise for How Do Dinosaurs Stay Friends?"The 10th dinosaur outing for Yolen and Teague playfully addresses the minefield of school friendships, as always cleverly subbing in outsized dinosaur antics for the gigantic feelings in every little kid's body... who can resist when dinosaur buddies share a sincere, well-earned hug?" -- Kirkus ReviewsPraise for How Do Dinosaurs Stay Safe?"This beloved series hit the ground running, and it's still going strong." --Booklist"As in previous outings, Teague's artwork steals the show, the realism of the scenes and human figures juxtaposed with the giant, though childish, dinos. Labels in the illustrations and endpapers will help dino mavens identify their favorites. Don'ts and Do's in a familiar formula go down easily for fans and will provide a good conversation starter for parents." --Kirkus ReviewsPraise for How Do Dinosaurs Say I'M MAD?"Yolen understands the value of the book beyond its surface entertainments, offering a note about the realities of anger and the value of apology. And Teague upholds his end of the bargain, carefully attending to the authenticity of the dinosaurs on display, and providing a diversity of human families as well. A solid, welcome addition to the series." --Booklist Praise for How Do Dinosaurs Say Good Night?An ALA Notable BookA School Library Journal Best Book of the YearA Booklist Editor's ChoiceA New York Times, Publishers Weekly, and Booksense bestseller."A delight from start to finish; better buy more than one."--Booklist

Praise for How Do Dinosaurs Stay Friends?"The 10th dinosaur outing for Yolen and Teague playfully addresses the minefield of school friendships, as always cleverly subbing in outsized dinosaur antics for the gigantic feelings in every little kid's body... who can resist when dinosaur buddies share a sincere, well-earned hug?" -- Kirkus ReviewsPraise for How Do Dinosaurs Stay Safe?"This beloved series hit the ground running, and it's still going strong." --Booklist"As in previous outings, Teague's artwork steals the show, the realism of the scenes and human figures juxtaposed with the giant, though childish, dinos. Labels in the illustrations and endpapers will help dino mavens identify their favorites. Don'ts and Do's in a familiar formula go down easily for fans and will provide a good conversation starter for parents." --Kirkus ReviewsPraise for How Do Dinosaurs Say I'M MAD?"Yolen understands the value of the book beyond its surface entertainments, offering a note about the realities of anger and the value of apology. And Teague upholds his end of the bargain, carefully attending to the authenticity of the dinosaurs on display, and providing a diversity of human families as well. A solid, welcome addition to the series." --Booklist Praise for How Do Dinosaurs Say Good Night?An ALA Notable BookA School Library Journal Best Book of the YearA Booklist Editor's ChoiceA New York Times, Publishers Weekly, and Booksense bestseller."A delight from start to finish; better buy more than one."--Booklist