Friday Black (Paperback)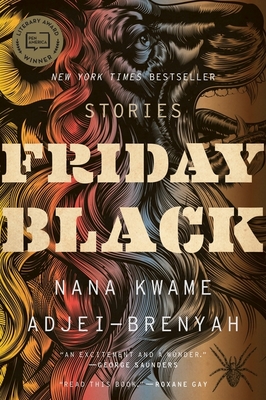 Description
---
A National Book Foundation "5 Under 35" honoree, chosen by Colson Whitehead

"An excitement and a wonder: strange, crazed, urgent and funny...The wildly talented Adjei-Brenyah has made these edgy tales immensely charming, via his resolute, heartful, immensely likeable narrators, capable of seeing the world as blessed and cursed at once."
—George Saunders

"This book is dark and captivating and essential...A call to arms and a condemnation. Adjei-Brenyah offers powerful prose as parable. The writing in this outstanding collection will make you hurt and demand your hope. Read this book."
—Roxane Gay

A piercingly raw debut story collection from a young writer with an explosive voice; a treacherously surreal, and, at times, heartbreakingly satirical look at what it's like to be young and black in America.

From the start of this extraordinary debut, Nana Kwame Adjei-Brenyah's writing will grab you, haunt you, enrage and invigorate you. By placing ordinary characters in extraordinary situations, Adjei-Brenyah reveals the violence, injustice, and painful absurdities that black men and women contend with every day in this country.

These stories tackle urgent instances of racism and cultural unrest, and explore the many ways we fight for humanity in an unforgiving world. In "The Finkelstein Five," Adjei-Brenyah gives us an unforgettable reckoning of the brutal prejudice of our justice system. In "Zimmer Land," we see a far-too-easy-to-believe imagining of racism as sport. And "Friday Black" and "How to Sell a Jacket as Told by Ice King" show the horrors of consumerism and the toll it takes on us all.

Entirely fresh in its style and perspective, and sure to appeal to fans of Colson Whitehead, Marlon James, and George Saunders, Friday Black confronts readers with a complicated, insistent, wrenching chorus of emotions, the final note of which, remarkably, is hope.
About the Author
---
Nana Kwame Adjei-Brenyah is from Spring Valley, New York. He graduated from SUNY Albany and went on to receive his MFA from Syracuse University. His work has appeared or is forthcoming in numerous publications, including Guernica, Compose: A Journal of Simply Good Writing, Printer's Row, Gravel, and The Breakwater Review, where he was selected by ZZ Packer as the winner of the 2nd Annual Breakwater Review Fiction Contest. Friday Black is his first book.
Praise For…
---
Praise for Friday BlackNamed a Best Book by:
Elle, Entertainment Weekly, Huffington Post, Buzzfeed, Harper's Bazaar, Nylon, Boston Globe, Southern Living, O, the Oprah Magazine,Chicago Tribune, The Verge,Vulture, Philadelphia Inquirer, The Millions, New York Observer, Literary Hub, Color Lines,PopSugar, The Rumpus, BookPage,St. Louis Post-Dispatch,the CBC, My Domaine, Bookish, Read It Forward,The Seattle Review of Books, and Publishers WeeklyOne of the National Book Foundation's "5 Under 35" honorees, chosen by Colson WhiteheadAn Indie Next PickLonglisted for the Carnegie Medal of Excellence in Fiction
"One of the most anticipated literary debuts of the fall, 
Friday Black 
veers between the surreal and the satirical in its bold take on being young and black in America."
—
Entertainment Weekly
"[A] knockout...illimunate[s] unsettling truths about the world."
—
Elle
"Like Kurt Vonnegut, the debut author introduces readers to worlds adjacent to our reality. They're familiar enough for us to recognize ourselves within them—until Adjei-Brenyah takes the tough-to-stomach parts of humanity to extremes, like Black Friday shoppers turning into violent, materialistic murderers. The stories wrestle with racism, mob mentality, police violence, and unrestrained consumerism. They're quick to read, and incredibly hard to forget."
—
Elle, "Best Books of the Year So Far"
"Reading Nana Kwame Adjei-Brenyah's debut short story collection
Friday Black
is like being shaken awake. These stories exist in a sort of hyperreality, ordinary characters living in the not-so-unbelievable,
Black Mirror
–esque future of a culture that doesn't hesitate to commodify cruelty or monetize revolution...Adjei-Brenyah skewers the ways we brush past racism and injustice, making the absurdity of the rhetoric around both impossible to ignore."
—
Buzzfeed
"This collection is nothing short of astounding."
—
Nick Petrulakis, Boston Globe
"Adjei-Brenyah's collection promises a searing, exacting look at injustice in America, from the quotidian to the systemic, delivered in a way that makes it impossible to look away."
—
Huffington Post
"Imagine a cross between
Get Out
and Ralph Ellison's
Invisible Man
, and you'll have a sense of what awaits readers of this audacious debut: darkly absurdist tales that take the horrors of racism to surreal new levels."
—
O, the Oprah Magazine
"The edge of the stories in Nana Kwame Adjei-Brenyah's debut collection
Friday Black
is razor sharp, ready to cut deep. This book is dark and captivating and essential. This book is a call to arms and a condemnation. Adjei-Brenyah offers powerful prose as parable. The writing in this outstanding collection will make you hurt and demand your hope. Read this book. Marvel at the intelligence of each of these stories and what they reveal about racism, capitalism, complacency and their insidious reach."
—
Roxane Gay
"For literature to bring forth such an astonishing new voice as Nana K. Adjei-Brenyah's—tender and furious, wise and wise-assed—marks a major leap forward for us all. The very first story brought me to tears, putting me in mind of Babel or Chekhov. And Adjei-Brenyah keeps doing that—dragging you through dystopic muck and mire before landing you in a transcendent spiritual place. This is the fiction debut of the year, and I can't cheer it loudly enough. Bravo, young man. We await your encore."
—
Mary Karr
"These stories are an excitement and a wonder: strange, crazed, urgent and funny, yet classical in the way they take on stubborn human problems: the depravities of capitalism, love struggling to assert itself within heartless systems. The wildly talented Adjei-Brenyah has made these edgy tales immensely charming, via his resolute, heartful, immensely likeable narrators, capable of seeing the world as blessed and cursed at once."
—
George Saunders
"Stunning...Adjei-Brenyah grapples with many of the most complicated, essential issues of today, from the evils of racism and capitalism to the ways in which violence and inequality are expected parts of life for so many people in America. Adjei-Brenyah's prose grabs you from the beginning and doesn't loosen its grip, as it takes you into the dark corners of the American experience, with a lyricism, dark wit, and palpable emotional weight."
—
Nylon
"Searing...Adjei-Brenyah examines, with dark humor and urgent insight, what it's like to be young and black in America...These satirical tales tackle violence, injustice and rampant consumerism with brutal honesty."
—
Chicago Tribune
"The stories in this collection are aching and powerful dispatches on race, violence, and the modern world."
—
Southern Living
"George Saunders for the post-Obama era, with some Paul Beatty sprinkled in, Adjei-Brenyah takes the absurdities of racism and other American ills to comic-dystopian extremes in her debut short story collection...Tenderness pokes through."
—
Vulture, Best Books of October
"The stories in this debut collection warp the dark realities of American racism into vicious satire."
—
Vulture
,
Most Anticipated Books of the Fall
"Adjei-Brenyah takes the absurdities of racism and other ills to comic-dystopian extremes."
—
Vulture, "To Do: Oct 17-31, 2018"
"Adjei-Brenyah's caustically inventive and audaciously topical debut collection of short stories wastes no time in letting you know where the author stands...There is anger in this collection, but also nuance, grace and a probing empathy with the breaking hearts and bemused emotions of men, women and children struggling to deal with the jolting maelstrom of postmillennial American racism...Adjei-Brenyah may well be the most provocative among a startlingly promising group of young African American short-fiction writers (Nafissa Thompson-Spires, JM  Holmes, Jamel Brinkley) who have emerged this year. His mordant wit, dystopian visions and keen sense of injustice aren't just intended to shock the reader but also to provide space to contemplate myriad social traumas and their close-to-the-bone effects on people's lives...[In the story] "In Retail," [the] narrator, after mentioning the suicide of a cashier, says, '[I]f you wanna be happy here in the Prominent Mall you have to dig happiness up, 'cause it's not gonna just walk up to you and ask how you're doing.' That observation, as much as any in "Friday Black," could encapsulate what these bleak, funny and oddly heartfelt stories are trying to tell their readers: In the most trying and bewildering times, don't expect sense to be easily made or grace to force its way in your lives. Make your own sense of things. Let the grace come to you."
—
Newsday
"Disturbingly dark and extremely brilliant...While the wild inventiveness and piercing insights of Adjei-Brenyah's stories could be described as Saunders-esque, the tough, nimble prose, which isn't afraid to turn brutal or heartbreaking, is purely his own invention."
—
Interview Magazine
"Satirical, edgy, fresh, hard-hitting."
—
Philadelphia Inquirer
"Compelling...A satirical yet unflinching look at what it's like to be black and young in America."
—
New York Observer
"Tackling issues like criminal justice, consumerism, and racism, these timely stories are searching for humanity in a brutal world. The collection is both heartbreaking and hopeful."
—
The Millions
"The stories in the collection have a dystopian bent and are told with dark humor and a clear-eyed understanding of human failings."
—
Poets & Writers
"A captivating exploration into the urgent issues facing black men and women today...The stories collected here are raw and in your face and at times explosive, all of which make it one of the year's most searing debuts."
—
PopSugar
"Each of Adjei-Brenyah's characters deals with the numbness that comes after the shock of death wears off—and the pain that arises when that shock doesn't fade. This is a difficult read and a twisting meditation on a world where love's gone missing."
—
BookPage
"Unflinching in its criticism of pervasive elements in modern America, tackling racial injustices, capitalism, school shootings, and more. Yet, even in pressing hot button issues, these stories remain firmly rooted in the people who inhabit them, calling for empathy even, and especially, for the characters who seem to least deserve it...Adjei-Brenyah is far from the first to attempt to tackle the issues plaguing American society through literature, but the ingenuity of his premises works to set this collection apart from the rest...The book's prime accomplishment is in inspiring empathy for the marginalized and the feared...Adjei-Brenyah is effective in asking not for forgiveness, but for understanding. Adjei-Brenyah uses a lens of exaggeration to lay bare harsh truths about our reality and dares his reader not to flinch.
Friday Black
is a strong debut collection that introduces a demanding young voice. Hopefully, for all our sakes, this author has plenty more words left in him to share."
—
Harvard Crimson
"
Friday Black
's subject is race, and the stories take on prejudice, racism, and American culture at large in a vivid and memorable way."
—
Bookish
"Remarkable in its honesty regarding the horrendous fantasy-life many white people in American still lead, while also critiquing the systems that allow for it...Imaginative...At first glance, you may think these tales are over the top, but look again: their expansion of real-life events, their critique of where we might be going, and their needling love for the characters harmed prove these stories are written by a visionary intent on showing us the less-than-moral mirror we're reflected in. A book to both enjoy and make you pause uncomfortably, it's well-worth the read."
—
Read It Forward
"Edgy humor and fierce imagery coexist in these stories with shrewd characterization and humane intelligence, inspired by volatile material sliced off the front pages... Yet Adjei-Brenyah brings to what pundits label our 'ongoing racial dialogue' a deadpan style, an acerbic perspective, and a wicked imagination that collectively upend readers' expectations... Corrosive dispatches from the divided heart of America."
–Kirkus Reviews, *STARRED* review
"Adjei-Brenyah dissects the dehumanizing effects of capitalism and racism in this debut collection of stingingly satirical stories... Adjei-Brenyah has put readers on notice: his remarkable range, ingenious premises, and unflagging, momentous voice make this a first-rate collection."
–Publishers Weekly, *STARRED* review
"Adjei-Brenyah's dozen stories are disturbingly spectacular, made even more so for what he does with magnifying and exposing the truth...Ominous and threatening, Adjei-Brenyah's debut is a resonating wake-up call to redefine and reclaim what remains of our humanity." —
Booklist, *STARRED* review
"An urgent satiric voice"
– Writers to Watch, Publishers Weekly
"A striking collection, by turns witty, insightful and brutally honest. Adjei-Brenyah's inventive language conjures worlds with brevity, specificity and a dark, absurdist humor. An exciting voice."
—
Charles Yu, author of How to Live Safely in a Science Fictional Universe and Sorry Please Thank You
"Nana Kwame Adjei-Brenyah has written an exciting, dazzling collection of stories. He writes with a ferocious wit and a big heart. His inventive fictional worlds speak both directly and covertly to this political moment in unexpected and fresh ways.
Friday Black
marks the thrilling debut of an important new voice in fiction."
—
Dana Spiotta, author of the National Book Award finalist Eat the Document and Innocents and Others
"Nana Kwame Adjei-Brenyah is a name you better get used to saying. The funny, uncompromising voice heard here for the first time, one that's not afraid to wander past the checkpoints of realism in order to get at the nature of the American real, will be with us for a long time to come. 'The Finkelstein Five' already reads like a classic, even though it stings like it was written this morning."
—
Jonathan Dee, author of the Pulitzer Prize finalist The Privileges and The Locals
"Prescient, dark, and deeply empathetic, visceral and inventive, these stories announce Adjei-Brenyah as both an astute cultural critic and a truthteller."
—
Nafissa Thompson-Spires, author of Heads of the Colored People
"
Friday Black
 offers us a glimpse of a world held together by both hope and rage. At once strange and hypnotic, uncompromising and merciful, these stories spring from a generous and vivid imagination, singular and expansive. Nana Kwame Adjei-Brenyah offers us a vision of America as we know it, in prose that leads us towards the spectacular and humbles us in its fullness. Follow every advice that tells you to read this book."
—
Maaza Mengiste, author of Beneath the Lion's Gaze
"Adjei-Brenyah's haunting collection is a work of modern-day surrealism, offering us tales which speak to the travesties of our time. Here are the stories of Trayvon Martin, of school shootings, of bloodthirsty capitalism and its unending injustices.  And here, too, are stories of good people engaged in the spiritual work of love and kindness. Adjei-Brenyah is a radical absurdist, telling truth-tales to help us all see our world more clearly. "
—
Alexander Weinstein, author of Children of the New World
"Nana Kwame Adjei-Brenyah has a cool eye, bright mind, and high style. His stories are solid, they're unusual, imaginative, disturbing, wry, tender, funny. Bursting with surprising language and formal invention, they plant the zeitgeist onto the page. It lives in
Friday Black
, in all its complexity, trouble, and possibility. Writing this distinctive and good, especially in our uneasy time, is genuinely a cause for celebration."
—
Lynne Tillman, author of Men and Apparitions
"Riveting. Every word. An impassioned interrogation of the human condition on the blackhand side, a true work of wonder, just reeking of significance. Here be Nana Kwame, scaling all manner of emotional registers while maintaining a stunning textual authority. And just when you think you've settled in, here comes Anansi and the Twelve-Tongued God working other dimensions in a seamless blend. He makes it look effortless but the clarity of the craft is self-evident, a numinous voice powering stories and characters that will inhabit your consciousness long after you've finished it and tried to put it down. In this impressive debut of a literary voice both new and edgy, we find an ancient griot telling stories of startling grace, gathering folk around the sacred fire and word by word forging the visions without which the people would perish. Testimony."
—
Arthur Flowers, author of Another Good Loving Blues and I See the Promised Land