Humanizing Healthcare: Hardwire Humanity Into the Future of Health (Hardcover)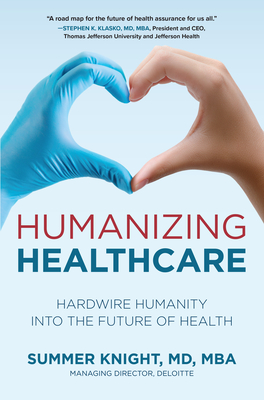 $32.00
Not On Our Shelves—Ships in 1-5 Days
Description
---
From a top healthcare futurist, frontline innovator, and Deloitte consultant comes a bold new vision for Humanizing Healthcare--hardwiring humanity at every point of care--that is good for people and good for business.
Our nation's healthcare and life science industry has changed dramatically over the past few decades--and not always for the better. In addition to rising costs and access challenges, the current system has caused needless suffering for patients and clinicians alike: physically, emotionally, financially, and socially. There have been numerous efforts to overhaul the system, but nothing has yet cured healthcare of its illnesses. In
Humanizing Healthcare
, paramedic-turned-physician executive and Deloitte Managing Director Summer Knight draws on her years of experience on the frontlines of healthcare to offer a powerful road map for real reform. Her refreshingly human approach to transforming our healthcare system provides practical strategies to:
Identify core problems in the current system--and find the best workable solutions.
Combine healthcare with social services--and build stronger networks of support.
Use digital technology and virtual visits to provide expert care at lower costs.
Empower healthcare consumers to make smarter choices in their treatment and purchasing options.
Form therapeutic alliances between the clinical team (physicians and staff) and the home team (family and friends).
Build a solid foundation for ongoing improvements that are truly sustainable, affordable, and humane.
This is a clear, compassionate guide to how the industry can transform to embody a more human perspective and use it as a collective north star that will positively impact all stakeholders--consumers, providers, caregivers, staff, executives, shareholders, and the government--alike. Most importantly, this book will open your eyes to what's possible when you create high-quality, deeply felt alliances that deliver consumer-driven care with value to all. Humanizing Healthcare is the future of health.
About the Author
---
Summer Knight, MD, MBA, is a Managing Director in the Life Sciences & Healthcare Consulting practice at Deloitte, where her team focuses on Humanizing Healthcare through consumer engagement and activation, digital and virtual health, care delivery transformation, value-based care, and drivers of health and health equity. Prior to joining Deloitte, she served as a firefighter/paramedic-turned-physician, Strategic Head of Digital Brands at Aetna's private equity organization, Healthagen, National Medical Executive on Client Innovations at Cigna, the Chief Medical Officer at the Agency for HealthCare Administration of the State of Florida, and Chief of Staff of a healthcare system, leading the Emergency and Urgent Care Department. A serial entrepreneur, she was also the founder and CEO of FirecrackerHealth, which provided industry clients a best-in-class, consumer-centric virtual healthcare system that improved quality, access, and outcomes while managing costs.