We're following all official guidelines to keep ourselves healthy on the job, and as a result, shipping may be delayed.
You will receive an email from our web orders team confirming that your order has been processed.
We thank you for your support and your patience at this challenging time.
Jack Kerouac is Dead to Me: A Novel (Hardcover)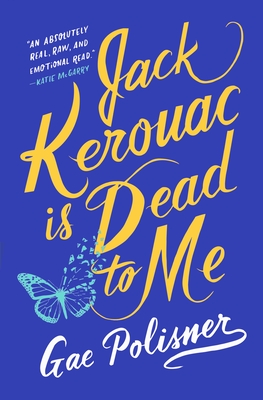 Description
---
"Jack Kerouac is Dead to Me is an absolutely real, raw and emotional read, and it's a book that touched my heart with every page." - Katie McGarry, critically acclaimed author of Only a Breath Apart
Fifteen-year-old JL Markham's life used to be filled with carnival nights and hot summer days spent giggling with her forever best friend Aubrey about their families and boys. Together, they were unstoppable. But they aren't the friends they once were.
With JL's father gone on long term business, and her mother struggling with her mental illness, JL takes solace in the tropical butterflies she raises, and in her new, older boyfriend, Max Gordon. Max may be rough on the outside, but he has the soul of a poet (something Aubrey will never understand). Only, Max is about to graduate, and he's going to hit the road - with or without JL.
JL can't bear being left behind again. But what if devoting herself to Max not only means betraying her parents, but permanently losing the love of her best friend? What becomes of loyalty, when no one is loyal to you?
Gae Polisner's Jack Kerouac is Dead to Me is a story about the fragility of female friendship, of falling in love and wondering if you are ready for more, and of the glimmers of hope we find by taking stock in ourselves.
About the Author
---
GAE POLISNER is the award-winning author of In Sight of Stars, The Memory of Things, The Summer of Letting Go, The Pull of Gravity, and Jack Kerouac is Dead to Me. She lives on Long Island with her husband, two sons, and a suspiciously-fictional looking dog. When Gae isn't writing, you can find her in a pool or the open waters off Long Island. She's still hoping that one day her wetsuit will turn her into a superhero.
Praise For…
---
Book Riot, "The Ultimate Guide to Spring 2020 YA Books for Your TBR"

Bookstr, "Get Excited for these New Spring Releases"
Culturess, "12 must-read new YA book releases to get us through April"

The Nerd Daily, "48 YA Book Releases To Look Out For In 2020"
"Polisner's writing is effortless and authentic, and JL is a character that readers will unquestionably relate to. Mental illness, absentee parents, bonds between friends, and the daunting anticipation of first-time sex are woven into JL's story with unguarded, unvarnished candor. Perfect for readers who love coming-of-age stories and who understand the value of female community." - BOOKLIST
"Polisner captures the voice of teen angst perfectly: the constant questioning, the pain of moving on, the joy of feeling your body respond to its growth, the wish for independence, and the need for belonging. Reading this narrative, as it moves from branch to branch of memories, feels like floating . . . Polisner captures the overwhelming emotions of that age, creating a situational reality in which each character fits perfectly and has a place in the story." - SCHOOL LIBRARY JOURNAL
"Polisner (In Sight of Stars) creates a mosaic of visceral images and moods, including emotional and physical longing, as JL navigates the uncomfortable terrain between adolescence and adulthood." - PUBLISHERS WEEKLY
"The major strengths of the book are deft deployment of the emerging butterfly theme, first-person narration by a strong and insightful character, and honest descriptions of JL's sexual relationship with Max." - KIRKUS
"A delightful novel about a teenager who finds comfort in raising butterflies when her relationship with her best friend begins to fray. A perfect escapist read!" - MEDIUM
"Anything written by Gae Polisner is a true treat. She commands her craft in a way very few do, and I consider her to be the best voice in the YA Contemporary space. JACK KEROUAC IS DEAD TO ME is my favorite book of Polisner's to date, and besides that, the title is absolutely brilliant. To understand the meaning, you'll have to read the book, which I highly recommend." - YA Books Central
"Jack Kerouac is Dead to Me is an absolutely real, raw and emotional read, and it's a book that touched my heart with every page." - Katie McGarry, critically acclaimed author of Only a Breath Apart

"Gae Polisner has done it again. I absolutely loved this beautiful, heart-wrenching story about friendship, family, and first love, and what happens when they all fall apart. Jack Kerouac is Dead to Me is a truly special book." - Lauren Spieller, author of Your Destination Is on the Left