We're following all official guidelines to keep ourselves healthy on the job, and as a result, shipping may be delayed.
You will receive an email from our web orders team confirming that your order has been processed.
We thank you for your support and your patience at this challenging time.
Repeal the Second Amendment: The Case for a Safer America (Hardcover)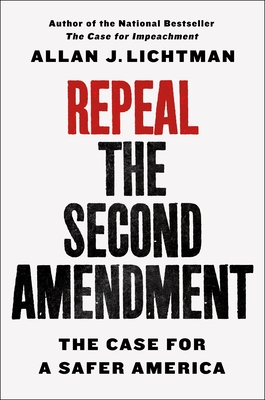 Description
---
A radical case for the repeal of the 2nd Amendment as the only way to control gun violence in America

There's an average of one mass shooting per day in the United States. Given the ineffectiveness of the gun control lobby, it's time for a strategy with spine. In Repeal the Second Amendment, Allan J. Lichtman has written the first book that uses history, legal theory and up-to-the-minute data to make a compelling case for the amendment's repeal in order to create a clear road to sensible gun control in the US.
Repeal the Second Amendment explores both the true history and current interpretation of the Second Amendment to expose the NRA's blatant historical manipulations and irresponsible fake news releases. Lichtman looks at the history of firearms and gun regulations from colonial times to the present to explain how a historically forgotten sentence in the Constitution has become a flash point of recent politics that benefits only the gun industry, their lobbyists, and the politicians on their payroll. He probes court decisions and the effective lobbying and public relations strategies of the gun lobby as well as the ineffectiveness of the gun control movement for lessons in doing better.
What emerges is a clear and cogent plan--repeal and replace the Second Amendment without taking guns away from anyone who has them now--to make the US a safer place. It's time to Repeal the Second Amendment, and Allan Lichtman is the man to bring this radical plan to America.
About the Author
---
Allan J. Lichtman is Distinguished Professor of History at American University and the author of many acclaimed books on U.S. political history, including White Protestant Nation: The Rise of the American Conservative Movement, which was a finalist for the National Book Critics Circle Award, FDR and the Jews (with Richard Breitman), and The Case for Impeachment. He is regularly sought out by the media for his authoritative views on voting and elections.
Praise For…
---
Praise for Repeal the Second Amendment:
"Lichtman's damning portrait of the NRA persuades . . . . This call to action will resonate with gun control advocates."
—Publishers Weekly

"A thoroughgoing survey of that most troublesome of constitutional matters. Useful ammunition for an argument on gun rights."
—Kirkus Reviews
Praise for The Embattled Vote:
"[An] important book… [Lichtman] uses history to contextualize the fix we're in today... With luck, this fine history might just help to fan the flame." —New York Times Book Review
Praise for The Case for Impeachment:
"It is still striking to see the full argument unfold and realize that you don't have to be a zealot to imagine some version of it happening…Lies. Abuse of power. Treason. Crimes against humanity. Martial law. Lichtman throws everything Trump's way." —Washington Post
"Liberal catnip." —Joe Scarborough, Morning Joe