We're following all official guidelines to keep ourselves healthy on the job, and as a result, shipping may be delayed.
You will receive an email from our web orders team confirming that your order has been processed.
We thank you for your support and your patience at this challenging time.
The Warrior Code: 11 Principles to Unleash the Badass Inside of You (Hardcover)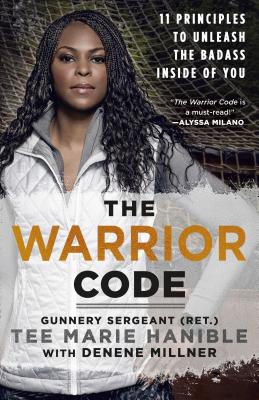 Description
---
From American Grit co-star, former Marine Gunnery Sergeant Tee Marie Hanible comes the story of how she became a warrior...and how you can do it, too.
In The Warrior Code, entrepreneur, philanthropist, reality star, and retired Gunnery Sergeant Tee Marie Hanible serves up eleven principles to awaken your inner badass and thrive in the face of adversity.
After surviving the death of her father, enduring foster care, and being expelled from school, Tee joined military reform school, where she began uncovering her inner warrior. As part of one of the first female classes of recruits to complete the Marine Corps Crucible and the Marine Combat Training, and as the only woman to deploy with her unit to Iraq in 2003, Tee tested her mettle and learned the key to becoming an unbreakable woman.
With insightful honesty and wisdom, and set against the backdrop of Tee's life, The Warrior Code will help you understand that things can beat us back from realizing our true potential...but the key is finding the way to realize one's own innate strength.
About the Author
---
Retired from the U.S. Marines after nineteen years of service, Tee Marie Hanible became the first female military expert on "American Grit." She founded Operation Heroes Connect, an organization that partners service members and veterans as mentors for at-risk youth.
In 2012, she was featured in the Newsweek magazine "Heroes Edition." She was the National Veteran's Chair for the Women's March and is currently an Executive Board member of the DC chapter. The Warrior Code is her first book.
New York Times bestselling author Denene Millner is a highly respected and sought after award-winning journalist whose captivating books, columns and essays have secured her foothold in the entertainment, parenting, book publishing and social media industries.
The veteran author has written and collaborated on 27 critically acclaimed and bestselling books, including The Warrior Code.
Praise For…
---
"Tee Marie Hanible is a real life warrior and an incredibly fierce woman in her own right. The Warrior Code is a must read!" - Alyssa Milano
"Tee Marie Hanible, a woman of incredible strength and courage, has now given readers a guide that will show them how to tap into their own power with The Warrior Code. A must have!" - Montel Williams
"Hanible's practical, no-nonsense advice and her candidness about both her missteps and all she's endured and conquered make her an impressive role model and guide for women and men of all ages who are navigating challenges in their lives." - Booklist

"Hanible, a retired Marine Corps gunnery sergeant and military expert on the TV show American Grit [...] gives readers advice on rising to be their best in her spirited debut. Readers who have seen Hanible on TV or who are willing to commit to a regimented program of self-betterment will find this forceful book useful." - Publisher's Weekly

"In this new self-help guide, Hanible teaches women everything they need to know in order to break down their insecurities and embrace their badass selves." - Parade Magazine, 10 Life-Changing Self-Help Books Every Woman Should Read in 2019
"Hanible uses the book to mix her life story and personal challenges with chapters that each principles readers can use to unleash their full potential." - Fredericksburg Free Lance Star