Wild Beauty: A Novel (Hardcover)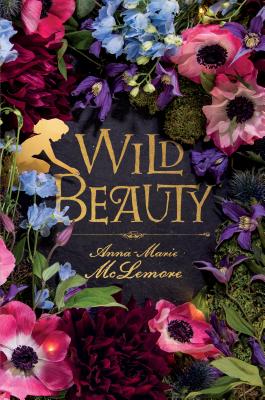 $17.99

Special Order—Subject to Availability
Description
---
"No one does magical realism quite like McLemore, and this third novel, laced with slow-burning suspense, folklore, romance, and spun together with exquisite, luxuriant prose, proves it.,,, Sheer magic: fierce, bright, and blazing with possibility."— Booklist (starred)

Love grows such strange things.

Anna-Marie McLemore's debut novel The Weight of Feathers garnered fabulous reviews and was a finalist for the prestigious YALSA Morris Award, and her second novel, When the Moon was Ours, was longlisted for the 2016 National Book Award for Young People's Literature. Now, in Wild Beauty, McLemore introduces a spellbinding setting and two characters who are drawn together by fate—and pulled apart by reality.

For nearly a century, the Nomeolvides women have tended the grounds of La Pradera, the lush estate gardens that enchant guests from around the world. They've also hidden a tragic legacy: if they fall in love too deeply, their lovers vanish. But then, after generations of vanishings, a strange boy appears in the gardens.

The boy is a mystery to Estrella, the Nomeolvides girl who finds him, and to her family, but he's even more a mystery to himself; he knows nothing more about who he is or where he came from than his first name. As Estrella tries to help Fel piece together his unknown past, La Pradera leads them to secrets as dangerous as they are magical in this stunning exploration of love, loss, and family.
About the Author
---
Anna-Marie McLemore was born in the foothills of the San Gabriel Mountains and taught by their family to hear la llorona in the Santa Ana winds. They are the author of The Weight of Feathers, a 2016 William C. Morris YA Debut Award Finalist; 2017 Stonewall Honor Book When the Moon Was Ours, which was longlisted for the National Book Award in Young People's Literature; Wild Beauty, a Kirkus, School Library Journal, and Booklist best book of 2017; Blanca & Roja, a New York Times Book Review Editors' Choice; Dark and Deepest Red, a Winter 2020 Indie Next List title; and The Mirror Season.
Praise For…
---
"A garden is the perfect setting for McLemore's plush, sensuous prose, which unspools the story with delicious languor. Part mystery, part love story, this evocative, lush novel is a delight for sophisticated readers."
—Kirkus (starred)

"[A] vibrant and magical tale that readers will not easily forget...This fantastical tale will delight her fans and entice a new audience." —School Library Journal (starred)

Praise for When the Moon Was Ours:

"McLemore's second novel is such a lush surprising fable, you half expect birds to fly out of the pages… McLemore uses the supernatural to remind us that the body's need to speak its truth is primal and profound, and that the connection between two people is no more anyone's business than why the dish ran away with the spoon." —Jeff Giles, New York Times Book Review, on When the Moon was Ours

"McLemore dances deftly across genres, uniquely weaving glistening strands of culture, myth, dream, mystery, love, and gender identity to create a tale that resonated to my core. It's that rare kind of book that you want to read slowly, deliciously, savoring every exquisite sentence. I adored this book." —Laura Resau, Américas Award-winning author of Red Glass and The Queen of Water

"Lushly written and surprisingly suspenseful, this magical tale is not just a love story, but a story of the secrets we keep and the lies we tell, and the courage it takes to reveal our authentic selves to each other and to the world." —Laura Ruby, Printz Award-winning author of Bone Gap

"McElmore blends magical elements with a culturally vibrant cast to create a haunting modern fairy tale...Lush, reverential language remains a hallmark of McElmore's work... Readers interested in gender identity and the pull of family and history will find this to be an engrossing exploration of these and other powerful themes." —Publishers Weekly

"McLemore mesmerizes once again with a lush narrative set at the thresholds of identity, family, and devotion... Readers will be ensnared in this ethereal narrative long before they even realize the net has been cast." —Kirkus Reviews, starred review

"With luminous prose infused with Latino folklore and magical realism, this mixes fairy-tale ingredients with the elegance of a love story, with all of it rooted in a deeply real sense of humanity. Lovely, necessary, and true." —Booklist, starred review

"Readers who stick with this novel will be rewarded with a love story that is as endearingly old-fashioned as it is modern and as fantastical as it is real." —School Library Journal, starred review

"It is a story of secrets, and of speaking them, and the power of saying–and living–your truth, without fear." —Lambda Literary

Praise for The Weight of Feathers:

"Scales and feathers touch and burn in McLemore's stunning debut. The beauty of the language wraps around you, not letting go until long after the final page." —Jaleigh Johnson, New York Times-bestselling author of The Mark of the Dragonfly and Secrets of Solace

"Ethereal and beguiling... The enchanting setup and the forbidden romance that blooms between these two outcasts will quickly draw readers in, along with the steady unspooling of the families' history and mutual suspicions in this promising first novel." —Publishers Weekly

"Readers beguiled by the languorous language...will find themselves falling under its spell...A contemporary, magical take on an ever compelling theme." —Kirkus Reviews

"A very imaginative modern-day romance akin to Romeo and Juliet and is infused with the whimsy of magical realism." —RT Book Reviews

"Told with skillful poetic nuances, this Romeo-and-Juliet story of forbidden love will entice fans of Maggie Stiefvater's "Raven Cycle" who wished for a little more romance." —School Library Journal