We're following all official guidelines to keep ourselves healthy on the job, and as a result, shipping may be delayed.
You will receive an email from our web orders team confirming that your order has been processed.
We thank you for your support and your patience at this challenging time.
Wolf in the Snow (Hardcover)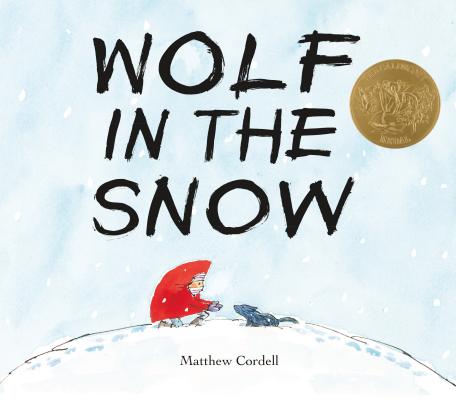 Description
---
Winner of the 2018 Caldecott Medal
A girl is lost in a snowstorm. A wolf cub is lost, too. How will they find their way home?
Paintings rich with feeling tell this satisfying story of friendship and trust. Here is a book set on a wintry night that will spark imaginations and warm hearts, from Matthew Cordell, author of Trouble Gum and Another Brother.
About the Author
---
Matthew Cordell is the author and illustrator of Caldecott award winner Wolf in the Snow, Trouble Gum, Another Brother, hello! hello!, and Wish. He has illustrated the books of renowned authors including Philip Stead (Special Delivery), Rachel Vail (the Justin Case series), and Gail Carson Levine (Forgive Me, I Meant To Do It). He lives outside of Chicago with his wife, the novelist Julie Halpern, and their two children.
Praise For…
---
Winner of the 2018 Caldecott Medal
A National Public Radio Best Book of 2017
A Horn Book Magazine Best Book of 2017
A School Library Journal Best Book of 2017
A Kirkus Reviews Best Book of 2017
A Boston Globe Best Book of 2017
A Huffington Post Best Book of 2017
"Caught in a blizzard on her way home from school, a girl in a red parka discovers a wolf pup left behind by its pack. Cordell's story is wordless, but there's a soundtrack: the cub whines, and distant howls reveal the pack's presence over the next hill. ...Cozy vignettes, framed in rough circles, help reassure readers that the story will end well, and so does a tender opening portrait of the family. The girl's story is a hero's journey, and Cordell tells it with skill and heart."--Publishers Weekly, starred review
"This nearly wordless picture book is a tender, never precious story of kindness and cooperation. Expect this wintry tale to bring only warmth."--Booklist, starred review
""Cordell's landscapes do a wonderful job showing the vastness and desperation of the girl's journey, his blended watercolors of the snow and trees adding eloquence to the experience. A heartwarming adventure about helping others, best shared one-on-one to pore over the engaging images."--School Library Journal, starred review
"A near-wordless story of kindness repaid.... What distinguishes this book are the many feelings that Cordell's pen-and-ink-with-watercolor illustrations capture so well—cold, fear, courage, exhaustion, relief—keeping readers hooked to the end. Deeply satisfying."--Kirkus Reviews, starred review
"Cordell's pen-and-ink illustrations balance detail and emotion...The setting is brought to life through changing sky colors, cold breaths, and extensive snowscapes in watercolors. The handlettered, inky text, wordless except for sound effects, supports the cinematic feel created through the use of varying perspectives and loosely demarcated panels. Suspenseful page-turns and aerial views on double-page spreads keep readers worrying about the protagonist until the very end, when the family is shown by the fireside with steamy mugs and pet dog—a cozy contrast to the fraught outdoor adventure."--Horn Book, starred review
"Beautifully paced....ultimately reassuring."--Wall Street Journal

"This winner of the 2018 Caldecott Medal underscores the power of illustration to develop a sweetly suspenseful plot, full range of emotion and core belief in getting beyond 'me first.'"--San Francisco Chronicle

"In this beautiful wordless picture book, a child sets out for a walk and discovers a wolf pup separated from its pack. The journey that follows is difficult and shows the power of kindness and bravery. Reminiscent of William Steig's Brave Irene, Cordell's book is a perfect choice for the dark days of winter." --IndieBound
"Wisely retaining the natural tension and suspicions that exist between human and wolf, Cordell subverts the dynamic by allowing his characters to defy their instincts and find the strength within them to offer kindness under duress."--Huffington Post